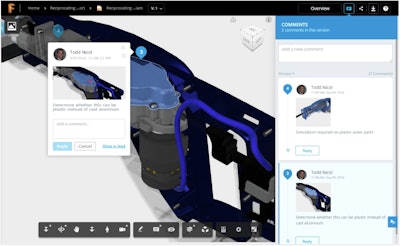 Autodesk recently added cloud-based product data management (PDM) for their Fusion Lifecycle offering. According to the company, Fusion now covers the entire concept-to-market workflow within one platform to help avoid the use of multiple software tools in obtaining, analyzing and applying enterprise data. Additional features of Fusion include:
Fusion 360 combines CAD, CAM, CAE, PLM and Fusion Connect for IoT data management.
Cloud PDM enables engineers to collaborate on designs and manage their work-in-process, CAD data and documents.
Fusion Lifecycle offers design data management with revision control and versioning happening automatically - enabling real-time design reviews, viewing and markup of 3D files, and connecting processes for managing BOM and Engineering Change Orders (ECO).
The new PDM functionality is built directly into Fusion Lifecycle and included at no extra cost.
Fusion Connect provides Dynamic Predictive Analytics, powered by technology from Nutonian to help make sense of the volume of data throughout the enterprise. A future option will include an Artificial Intelligence modeling engine that extracts meaning from large data sets and delivers prescriptive solutions.
Also coming soon is Fusion Configure that will add enterprise CPQ (configure, price, quote) functionality in meeting the demand for more personalized and tailored products.