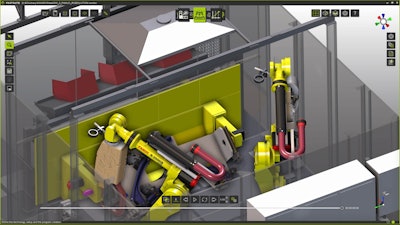 With FASTSUITE Edition 2, CENIT (Auburn Hills, MI) provides a new Digital Factory Solution for smart manufacturing (see photos in gallery). Based on the mechatronic simulation of resources and components, the software platform enables systems integrators and manufacturers to emulate a real production environment. Features include:
The ability to create a digital mock-up of a true shop floor setting.
Assistance with factory automation tasks, from planning to ongoing operation – which includes a range of production technologies.
Technologies and functions that interact and complement each other in a single, innovative user interface with a standardized data model.
An efficient workflow with full process control, while preventing data redundancy or the loss of information.
Solutions extending from transferring engineering data to virtual startup of production systems.
A modular structure that offers system-specific applications — users can expand and adjust functions as project requirements change.
Process-driven technology and control packages to provide offline programming even for sophisticated applications and technologies.
CAD data transferred using standard interfaces like STEP or JT, as well as direct interfaces to NX, CATIA, and SolidWorks.
For more information, visit www.fastsuite.com.