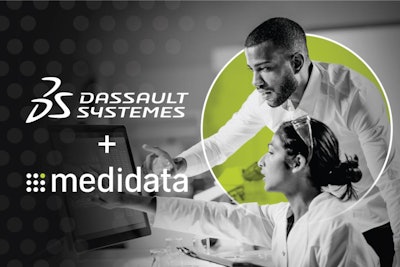 Dassault Systèmes today announced the acquisition of Medidata Solutions a company that specializes in the digital transformation of the life sciences industry for clinical development, commercial, and real-world data intelligence.
In an all-cash transaction valued at $5.8 billion, the acquisition will reinforce Dassault's position as a science-based company by providing the life sciences industry with an integrated business experience platform for an end-to-end approach to research and discovery, development, clinical testing, manufacturing and commercialization of new therapies and health technologies.
According to Bernard Charlès, Vice Chairman and CEO, Dassault Systèmes, the move will help "address the complexity of developing personalized medicine and patient-centric experiences."
In a statement, Charlès said, Medidata's position in clinical trials "complements our life sciences solutions on the 3DEXPERIENCE collaborative platform. Medidata's recent expansion into real world evidence and analytics coupled with the power of modeling and simulation demonstrates how the virtual world will catalyze the next generation of patient-inclusive therapeutics."
Medidata's clinical expertise and cloud-based solutions power the development and commercialization of smarter therapies for 1,300 customers worldwide, including pharmaceutical companies and biotechs, contract research organizations (CROs), and medical centers and sites.
The company's solutions enable efficiency and improve quality throughout clinical development programs by enhancing decision-making, accelerating processes execution and oversight, minimizing operational risk, reducing costs and adapting trial strategies.
Thirteen of the top 15 drugs sold in 2018 were powered by Medidata's technology. Eighteen of the top 25 pharmaceutical companies and nine of the top 10 CROs are all Medidata customers.
Founded in 1999, Medidata is headquartered in New York City, with 16 offices across seven countries, notably in the U.S., Japan, Korea, and the U.K., and counts 2,800 employees and contractors.
Dassault Systèmes collaborates with the world's top 20 biopharma companies, hundreds of biotechnology companies, medical device manufacturers, research institutes, and governmental regulatory agencies to develop and bring to market innovative health products and technologies, using the power of virtual universes to transform the patient experience.
Completion of the acquisition is expected during the last quarter of 2019 and is subject to certain regulatory approvals, approval by the majority of Medidata's shareholders and other customary closing conditions.
Medidata's fiscal year ended December 31, 2018, and its revenue was $636 million.