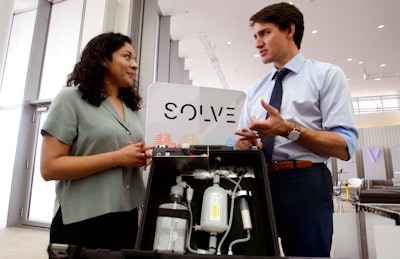 CAMBRIDGE, Mass. (AP) — Canadian computer scientists helped pioneer the field of artificial intelligence before it was a buzzword, and now Prime Minister Justin Trudeau is hoping to capitalize on their intellectual lead.
"We've been investing massively in AI," Trudeau told a conference of tech entrepreneurs Friday at the Massachusetts Institute of Technology, before name-dropping several of the Canadian academics he said provided the underpinnings of the technology during an "AI winter" when most weren't paying it much notice.
Trudeau has become a kind of marketer-in-chief for Canada's tech economy ambitions, explaining the basics of machine learning as he promotes a national plan and government investments to "secure Canada's foothold" in AI research and education.
He said Friday that Canada is making a "deliberate choice," but not an easy choice, to embrace change at a time when new technology is disrupting workplaces and leading to anxiety and fear about the future. He said leaders also have a responsibility to shape the rules and principles to guide the development of artificial intelligence.
His visit headlined MIT's Solve initiative, which connects innovators with corporate, government and academic resources to tackle world problems. He also spent time visiting a technology lab, chatting with engineers and asking pointed questions about hydroponics, neurology, robots and kids' coding programs.
Trudeau isn't the only head of state talking up AI — France's Emmanuel Macron and China's Xi Jinping are among the others — but his deep-in-the-weeds approach to promoting Canada's knowledge-based economy has caught U.S. tech companies' attention in contrast to President Donald Trump, whose administration "got off to a little bit of a slow start" in expressing interest, said Erik Brynjolfsson, an MIT professor who directs the school's Initiative on the Digital Economy.
"AI is the most important technology for the next decade or two," said Brynjolfsson, who attended the Trump White House's first AI summit last week. "It's going to completely transform the economy and our society in lots of ways. It's a huge mistake for countries' leaders not to take it seriously."
Facebook, Google, Microsoft, Uber and Samsung have all opened AI research hubs centered in Montreal, Toronto and Edmonton.
They were drawn in large part by decades of academic research into "deep learning" algorithms that helped pave the way for today's digital voice assistants, self-driving technology and photo-tagging services that can recognize a friend's face.
Canada's reputation as a welcoming place for immigrants is also helping, as is Trudeau's enthusiasm about the AI economy, Brynjolfsson said.
"When a national leader says AI is a priority, I think you get more creative, smart young people who will be taking it seriously," he said.
AI is an "easy and recognizable shorthand" for the digital economy Trudeau hopes to foster, said Luke Stark, a Dartmouth College sociologist from Canada who studies the history and philosophy of technology.
A former schoolteacher, Trudeau is "smart enough to know when to learn something so he can talk about it intelligently in a way that helps educate people," Stark said.
Stark said that also allows Trudeau to "push into the background some of the less high-tech, less fashionable elements of the Canadian economy," such as the extraction of oil and gas.
The visit comes amid talks between Canada, the U.S. and Mexico over whether to renew the North American Free Trade Agreement. Negotiators have now gone past an informal Thursday deadline set by U.S. House Speaker Paul Ryan, increasing the likelihood that talks could drag into 2019.