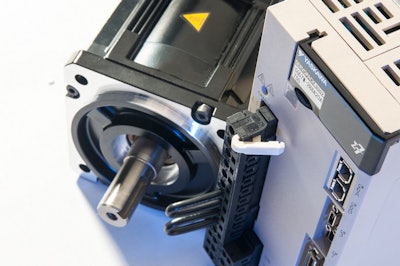 The Drives & Motion Division of Yaskawa America, Inc. (Waukegan, IL) has introduced the Sigma-7, a new line of rotary, linear, and direct drive servos and amplifiers that improve operating efficiency in automated equipment. Sigma-7 features:
Nearly double the bandwidth of Sigma-5 servos, for quicker response to system commands.
24-bit encoding.
A 20 percent smaller footprint.
A new package of algorithms that correct machine imperfections, including ripple compensation, anti-resonance, and friction model compensation.
New dual-axis amplifiers that mount in smaller spaces, cut part counts, and regenerate power for long-term energy conservation.
Full compatibility with Sigma-5 servos, enabling replacement without the need for reprogramming or re-engineering existing equipment.
18 new products that cover a range of motion control applications, with rotary servos from 3 W to 55 kW in output.
The ability to choose from two direct drive servos and four linear products, including a SigmaTrac option designed for bolt-on, plug-in implementation.
SERVOPACK amplifiers that offer the option of interface via EtherCAT, MECHATROLINK or analog connections.
A SigmaLogic SERVOPACK that sequences motion using the Add On Instructions (AOIs) used by programmable logic controllers.
For more information, visit www.yaskawa.com.