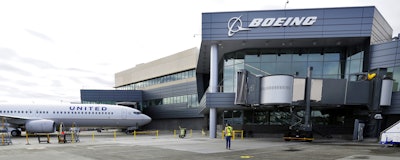 Boeing apparently hopes to capitalize on the recent lifting of U.S. sanctions on Iran.

Iran's state-owned media said earlier this week that the aerospace giant floated three jet models to aviation officials in Tehran, according to multiple reports.

Maqsoud Samani, secretary of the country's airline association, told state media that Boeing offered its 737, 787 and 777 jetliners and that the country was reviewing the proposal.

International sanctions against Iran were lifted in January under the terms of a nuclear deal between Iran and world powers.

Observers speculated that American manufacturers would enter the Iranian market cautiously, if at all, but Boeing — which began offering planning documents to the country last year — could be eyeing substantial new business as it competes with rival Airbus.
The French aerospace company signed a $25 billion contract to sell planes to Iran shortly after the sanctions were lifted.

The Iranian aviation industry, meanwhile, was plagued by aging equipment and poor service amid the sanctions. The Associated Press reported that about 100 of the nation's 250 commercial planes are currently grounded due to a lack of available parts.
Of those in service, about 60 are Boeing aircraft, but most date to before the country's revolution in 1979.

Boeing officials indicated that the talks were closely coordinated with the U.S. government and that the company would need federal approval "should any agreements be reached at some future point."

State Department officials, meanwhile, said that the agency is "not going to stand in the way of permissible business."