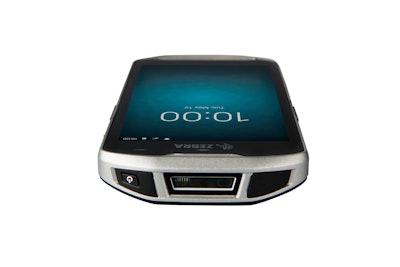 Zebra Technologies Corporation (Lincolnshire, IL) has announced the next evolution in enterprise mobile computing: the TC5 Series touch mobile computers. Developed for retail and field mobility applications, the TC51 and TC56 have been designed to satisfy the durability, power and security needs of business users while offering an intuitive consumer design to meet the expectations of end users. Specifically:
The TC5 Series is as modern and easy to use as consumer smartphones so there is no need to compromise device design for enterprise functionality.

The devices are built to last for years and designed to withstand accidental drops into water or onto concrete and used in dusty areas - providing enterprise-class durability.

Running the Android 6.0 (Marshmallow) operating system, the TC5 Series is supported by Zebra's Mobility DNA, the industry's most comprehensive suite of application security, development tools and mobile end-user apps.
With a 1.8 GHz hexa-core 64-bit processor, the TC5 series helps enterprise apps run up to five times faster while consuming 15 percent less power than other devices running on quad core platforms.
The TC5 Series features innovative productivity design features to help improve user satisfaction including an easily removable and replaceable battery pack, a large 5-inch display and customizable Active Edge Touch Zones for one-touch access to the most frequently used device features and apps.
The TC5 series also provides the operational ease of support for a better total cost of ownership (TCO) as well as the fastest, most dependable wireless connections inside and outside with 802.11ac/r/k Wi-Fi connectivity for superior roaming capability, and 4G LTE WWAN.
www.zebra.com; 866-230-9494