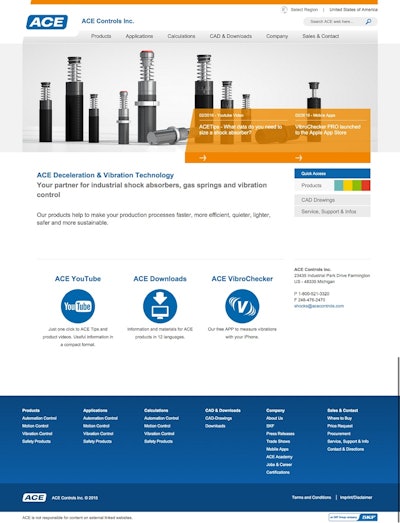 ACE Controls, a supplier of industrial shock absorbers, has launched a suite of engineering tools related to vibration control, gas shock size, and safety.
The tools are part of a new website relaunch.
The site's calculation program makes it easier to size shock absorbers. By entering some basic technical information into the calculator, engineers can select the right vibration control shock absorber or gas spring for their application.
Engineers can also calculate shock absorber safety levels by entering the direction of movement, type of application, and technical specifications.
In addition to the calculation program, the new site has several other helpful engineering resources.
Users can access:
Informational videos with tips, tutorials, and demonstrations.
VibroChecker application software, an efficient way to measure vibration.
An extensive library of CAD models and product catalogs.
For more information, visit www.acecontrols.com.