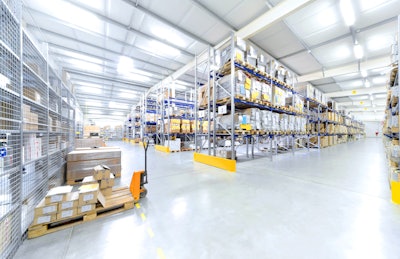 Utilizing your ERP system with integrated WMS functionality to its fullest potential is imperative to your manufacturing company's success and is fostered early in the implementation of these business management tools. Effective use of WMS can reduce labor costs, improve inventory accuracy and increase the visibility and workflow throughout the warehouse. Not realizing these benefits is often due to the solution ineffectively being implemented or not receiving the justified buy-in from stakeholders across your organization. How can you get the most from your WMS? The key is to successfully implement the solution utilizing best practices to meet the needs of your business and your industry as a whole.
What is WMS?
WMS, or warehouse management system, is an application that supports daily warehouse operations by monitoring the movement and usage of stocked inventory, work in progress (WIP) and finished goods from the receipt of raw materials to the shipping of final products. Through the recording of inventory transactions, the solution provides real-time tracking of stock levels and warehouse locations. With specialized functionality, it streamlines inventory activities that plan, organize, staff, direct and control the utilization of resources.
Assign a Project Manager
To ensure that a WMS reaches its maximum potential, it is important to appoint a dedicated project manager to successfully guide the company through implementation. In addition to facilitating best practices, this individual provides leadership in all aspects of implementing a WMS by guiding your company to efficiently handle changes, minimize disruptions and delays and delegate responsibility to appropriate company stakeholders. With the support of upper management, they are tasked with incorporating overall business goals as the guiding principle of implementation. Project managers should be willing to make the decisions necessary to ensure success in the transition from old processes to the new WMS.
Identification of Implementation Goals
The first step to help maximize WMS is the identification of your company's goals by specifically examining the critical needs and process inefficiencies of the operation. Since each organization has unique characteristics, it is essential to analyze your current business processes and define your priorities - balancing customer needs with the organizational strategies that are good for the company. What benefits are you expecting to glean from implementing WMS? Whether it's inventory accuracy, accountability, increased visibility, real-time access to information or streamlined operations, listing objectives that address specific industry challenges should be integrated into your implementation plan. Defining these objectives helps company employees identify goals that provide an important foundation for the success of your WMS implementation.
Employee Motivation and Buy-in
Since new software implementation can be difficult for many people, a focus on embracing a culture of change within your organization can help employees overcome feelings of fear, anxiety and an unwillingness to learn new technologies or operational processes. With top-down executive buy-in and complete organizational support, company stakeholders should be informed of anticipated outcomes and benefits of a WMS. Doing so will support the adoption of the new technology, as well as to ease employee anxiety. By encouraging communication, feedback, and open-mindedness regarding employee concerns, investment in the new technology and processes are facilitated. Planning for the cultural change of transitioning from a manual environment to an automated one requires a reassurance to your workforce that they will be supported in their transitional efforts. Making employee buy-in a reality is a necessity.
Environmental Support
Technology requirements are not the sole consideration when implementing WMS, as the physical layout of the warehouse must also be part of a process to achieve maximum efficiency. Conducting an environmental analysis or site survey ensures that physical spaces are set up properly, with materials and equipment in their places to easily complete tasks. Organizational deployment of workspaces and accurate tracking with proper barcoding and labeling of every item supports a scanning infrastructure necessary to facilitate item movement in the warehouse. Proactive planning provides support for WMS by ensuring sufficient space capacity, effective staging areas, and storage rack configuration – ensuring an adequate transactional barcode scanning environment. With an effective warehouse organization, you'll establish a physical environment that efficiently supports WMS.
In addition to organizing warehouse spaces, ensuring that technology like mobile phones, tablets or scanners are user-friendly and can effectively function in the environment are important as well. Depending on the requirements of a particular facility, devices may need to stand up to high humidity, cold, heat or water exposure or require the ability to withstand motion or movement. Providing a reliable scanning environment ensures the efficient receipt and return of materials, tracking of inventory, document production, order picking and shipping and report creation necessary for effective warehouse operations.
Employee Training
Similar to the adoption of any other new technologies or procedures, it's essential to include appropriate training of all employees for a new WMS. A training program should be constructed that ensures that stakeholders receive instruction on the functionality and capabilities of the system. Providing a hands-on learning environment in which each transaction is recorded within the WMS every time a product is moved (without workarounds) should be emphasized - helping employees gain a different mindset than is required from a manual system. Providing a chance for troubleshooting and question and answer opportunities will enable employees to demonstrate proficiency when utilizing with the WMS system. Training employees thoroughly in the new system and procedures will help to meet your company's goals of a successful WMS implementation.
To fully embrace the complete functionality of your ERP's WMS solution, it's important to utilize proven strategies that will help you maximize its potential. With its success in reducing labor costs, improving accuracy and increasing the visibility of inventory and workflow, taking advantage of the full functionality of your WMS system is necessary to your company's success. These best practices will get you on the road to achieving that goal.
Daniel Erickson is a Product Strategy Manager at ProcessPro.