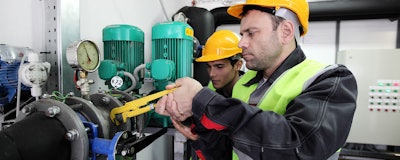 Servitization—where companies shift from strictly new product sales to instead selling the outcome a product delivers—and change go hand-in-hand. And, we all know that regardless of the circumstances, change can be unnerving. The manufacturing industry in particular has remained relatively unchanged for decades, but this new era is requiring original equipment manufacturers (OEMs) to completely upend the status quo.
For years, the onus has been on end-users to absorb the brunt and costs of ongoing maintenance and repairs. Due to the boom in servitization however, it is now the OEMs that have to take over the responsibility of making sure equipment is up-and-running as much as possible—leading to an increased focus on maximizing product uptime and pre-emptively repairing equipment before it ever fails.
This has obvious upsides, as the OEM is in the best position to ensure the products are designed and manufactured in the best way to maximize uptime. However, this shift also means that OEMs are no longer making money on selling highly expensive spare parts—but rather that the equipment works and deliver its output. This means the whole business logic and incentive structure changes dramatically and will require OEMs to redefine the way they operate.
Here are three key things OEMs need to do as they shift to a servitization-centered business model:
Invest in workforce training. A majority of companies have a tendency to prioritize speedy onboarding versus comprehensive workforce training. However, the companies that trade in hurried, one-off onboarding and focus on continuous training and development will have a competitive edge. People are a company's best asset. So, taking the time to provide thorough training simply makes sense to help them feel comfortable, thrive and achieve the results that a company is aiming to through this new business model.
Bring in far-reaching service technology. Many after-sales service businesses still manage their service parts supply chain efforts through time and labor-intensive processes. In the shift to servitization, however, OEMs must take a much more comprehensive look at their operations and invest in the proper technology that can help them manage the real-time service needs that arise in a servitization-centered world.
Always question. Why are we doing things this way? Are the processes we have in place delivering the results we need? Are they helping us to be in the best position to tackle the problems of tomorrow? These are questions that leaders at global OEMs need to be asking themselves every day. Just because a certain method has worked for years, doesn't necessarily mean it's the right way today – or especially for the future. It's important to always keep thinking critically about what can be done to improve and to empower other team members to question and deliver new, more effective solutions.
Servitization brings with it many exciting opportunities, but that doesn't necessarily mean the transition is easy. Despite any apprehension to change, OEMs can begin taking small steps today to lay the foundation for a successful servitization-centric approach, and more importantly, situate their businesses for the next iteration of the manufacturing industry.
Gary Brooks is CMO at Syncron.