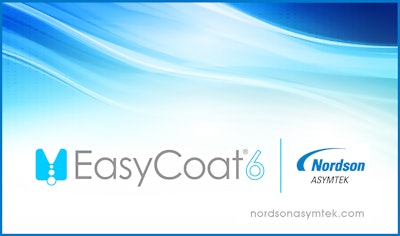 Nordson ASYMTEK (Carlsbad, CA), a Nordson company, has introduced its upgraded EasyCoat 6 software for its Select Coat SL-940 conformal coating system. EasyCoat 6 software combines several powerful capabilities to deliver a visual programming experience that reduces programming time, increases throughput and productivity and achieves high quality conformal coating results. Key features include:
Drag-and-drop graphical overlay programming.
Online and offline programming.

Applicator tip tracking.

A new user interface that includes updated iconography, new color schemes and a variety of customizable settings to personalize the programming environment.
www.nordsonasymtek.com; 760-431-1919