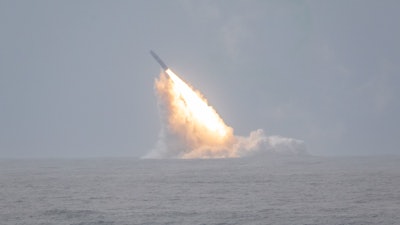 Lockheed Martin/U.S. Navy
On September 27 Lockheed Martin, supporting the U.S. Navy, marked the successful launch of one Trident II D5 Life Extension Fleet Ballistic Missile (FBM). The Navy conducted Demonstration and Shakedown Operation-32 (DASO-32) launching an unarmed missile from the Pacific Ocean off the coast of California.
DASO-32 increased the Trident II D5 record to 191 successful test launches since design completion in 1989 – the most reliable test record for a large ballistic missile. Through the test, Navy submarine USS Louisiana (SSBN 743) demonstrated the readiness of the crew and strategic weapon system and certified the crew for strategic patrol. The DASO event provides an opportunity to collect data about the D5 Life Extension missile's performance using a test missile kit, also produced by Lockheed Martin. This event represents the last planned DASO resulting from an engineer refueling overhaul from an OHIO-class submarine.
The D5 missile, built and upgraded by Lockheed Martin for the Navy, is currently aboard U.S. OHIO-class and UK VANGUARD-class submarines. The three-stage, solid-propellant, inertial-guided ballistic missile can travel a nominal range of 4,000 nautical miles and carries multiple independently targeted reentry vehicles.
The joint government-industry team achieved the initial fleet introduction of the D5LE in 2017. The Life Extension program modernized the submarine-launched ballistic missile while maintaining the proven performance of the D5 missile for significantly less than the cost of designing a new missile.