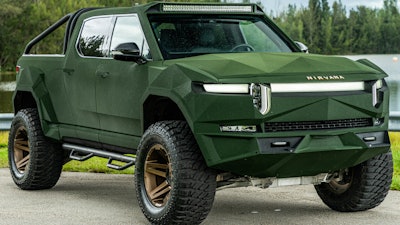 Apocalypse Manufacturing
Apocalypse Manufacturing, the company known for constructing trucks to combat all on/off-road scenarios, has announced the launch of the Apocalypse Nirvana. This off-road and on-road vehicle showcases the company's commitment to exploring all powerplant options, while continuing to push their functions to the limit.
The Nirvana is an all-electric beast of a truck, boasting 850 HP and a blistering 0-60 mph in just three seconds, with a starting price of $150,000 (vehicle included). The truck features a fully custom, handcrafted angular body, a dynamic computer-controlled suspension built from scratch and torque vectoring second to none. Additionally, the truck comes with 38"x15.5" tires mounted on 20"x12" SFJ wheels, a hand-made rollcage and sidesteps, as well as front and rear skid plates to protect against off-road terrains. Spec-wise the Nirvana comes in at a height of 81", a width of 91" and a total length of 214".
The Apocalypse Nirvana is not just a 4x4 powerhouse, it's a work of art. Its body is coated with full Kevlar paint job, that not only gives the truck a rugged look but also protects it from scratches, rust, and erosion, while being easy to clean. With almost 350-mile range, industry-leading fast charge time, 11,000lbs towing capacity and hands-free highway driving, the Apocalypse Nirvana is a perfect blend of luxury and utility, ensured to enlighten the automotive industry.
"Plainly stated, people have opinions when it comes to electric vehicles, so I had my apprehensions about Apocalypse tackling a project of this derision, but I honestly fell in love with this vehicle from the first time I sat behind the steering wheel," said Joseph Ghattas, Founder and CEO of Apocalypse Manufacturing and its sister company, South Florida Customs, also known as SoFlo Customs. "It's fast, with raging power and teeth-clenching torque, so really, I wanted to give it the look it deserved to match the powerplant. Make it big, with a lift that works with the original equipment provided, so that's what we did and I feel this vehicle represents our dedication to redefining the concept of luxury off-road super trucks. Why do EV vehicles have to look sterile or bland, stripped of their masculinity? This is a badass truck, it's time it looks and acts like one."
Apocalypse Manufacturing, renowned for creating custom versions of Jeep, Ford Bronco and Ram trucks, including 6-wheel drive models, has a reputation for being the leader in the industry segment. The company has been widely publicized on ESPN and in Robb Report, as well as TMZ and other news outlets when Dallas Mavericks/NBA star Luka Doncic appeared on live TV driving his Apocalypse 6x6 truck. The company has also been featured in the major Paramount motion picture "The Lost City," starring Sandra Bullock, Brad Pitt, Channing Tatum and Daniel Radcliffe and had one of their trucks venture over 3,000 miles as a participant in the infamous Gumball 3000 race. However, this is the first time the manufacturer has worked on a Rivian. The Apocalypse Nirvana serves as a testament to the company's innovation, superior engineering and desire to achieve inner peace while leaving the competition in pieces.