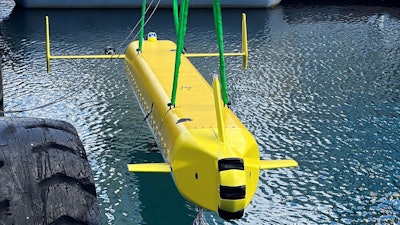 DARPA
DARPA's Manta Ray program hit a key milestone with an in-water splash test off of Oahu, Hawaii, of performer PacMar Technologies' scaled prototype to verify sensors, vehicle hydrodynamic performance and key autonomy behaviors of the glider body.
Manta Ray aims to develop and demonstrate a new class of long-duration, long-range autonomous underwater vehicle. The program approach includes rapid prototyping and early risk reduction prior to culminating in a more complex, full-scale final demonstration at sea.
"Splashing a vehicle is a major milestone for an undersea program," said Dr. Kyle Woerner, Manta Ray program manager at DARPA. "This test provides important insights into key systems, allows us to validate assumptions and models and gives us valuable data in preparation for our upcoming full-scale at-sea demonstrations. We are a critical step closer to realizing the program's objectives for a new class of long-endurance autonomous underwater vehicle."
PacMar Technologies and Northrop Grumman are the two Phase 2 performers on the Manta Ray program. Northrop Grumman is targeting a test of its prototype in 2024.