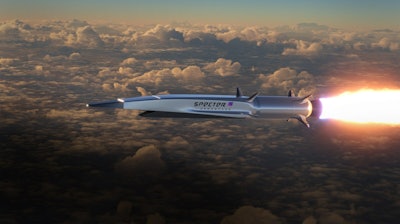 Specter
Specter Aerospace, a Boston area defense contractor, specializing in the field of plasma-assisted combustion and hypersonic propulsion, announced that it had secured over $9.5 million in previously undisclosed venture and government funding today. The funding comes from various defense contracts awarded by the DoD and equity investments from CS Ventures and Mandala Ventures.
Specter Aerospace is committed to enhancing engine operating limits and performance across the energy, aerospace and national security sectors. Recognizing the need for innovation in hypersonic flight platforms, the company has made the development and commercialization of these ground-breaking technologies an immediate priority. Specter is breaking the mold of a defense contractor; bringing rapid innovation alongside efficiency and scale. By focusing primarily on hypersonic propulsion, Specter Aerospace aims to better connect societies and to protect global democracy by leveling the playing field with American adversaries.
"Specter Aerospace is revolutionizing engine efficiency, stability, and power while decreasing environmental impact and cost," said Felipe Gomez del Campo, CEO of Specter Aerospace. "Our rigorously tested plasma-assisted combustion technology has already shown that our defense customers can go farther and faster on less fuel and thanks to these crucial investments and with existing contracts with the DoD, we expect to fly our first hypersonic demonstrator within two years."
This funding allows Specter to develop and implement its technologies in both new and existing engines. The commercialization of this technology will revolutionize the energy, aerospace, and national security industries.
"CS Venture Opportunities Fund is delighted to partner with Specter Aerospace, Mandala Space Ventures and Kairos Ventures with this investment," said Quinten Stevens, General Partner. "We invest in transformative technologies and believe the company's plasma-assisted combustion technology is world-class. Plasma-assisted combustion is a critical component in hypersonic engines and Specter Aerospace's technology is both strategically and vitally important to the United States in its development of hypersonic engines."