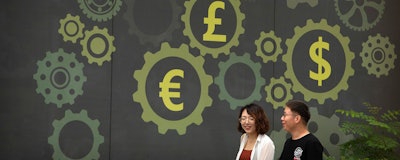 PARIS (AP) — A global economic watchdog says world growth has passed its peak and faces growing risks, including from trade disputes and higher interest rates.
The Organization for Economic Co-operation and Development, which advises many of the world's richest economies, said Wednesday it has cut its forecast for global growth next year to 3.5 percent from 3.7 percent previously.
The Paris-based agency said that while labor markets are in good health in major economies like the U.S., trade and investment have taken a hit from higher tariffs. U.S. President Donald Trump has slapped tariffs on many trade partners and escalated a tit-for-tat dispute with China.
OECD chief Angel Gurria said: "Trade conflicts and political uncertainty are adding to the difficulties governments face in ensuring that economic growth remains strong, sustainable and inclusive."