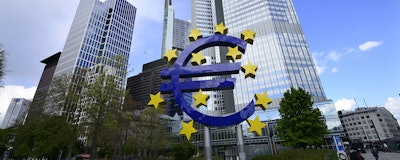 FRANKFURT, Germany (AP) — A top eurozone official says the 19 countries that use the euro will push ahead with discussions on a eurozone budget proposed by France and Germany to make the currency union more resistant to crises.
Mario Centeno, president of the eurozone finance ministers' group, said that ministers had a "very good discussion" of the proposal at their meeting Monday in Brussels and that "the topic will remain on our agenda" for further discussion.
"Everyone is aware of the necessity of reinforcing the eurozone," said French Finance Minister Bruno Le Mair.
A separate eurozone budget within the overall EU budget could help countries in difficulty stabilize their economies. Le Maire said in response to a journalist's question that even if discussions for now were of relatively small amounts such as 20-25 billion euros ($23-29 billion) "you need a starting point and a framework." Those figures would be only around 0.2 percent of eurozone annual economic output.
The budget proposal is the result of months of negotiations between French and German officials. A eurozone fiscal fund has been a goal of French President Emmanuel Macron as a way to strengthen the euro currency union, which has one currency but 19 separate governments. It lacks steady spending from a central authority to even out recessions that hit one member worse than others, as the federal budget does in the United States when individual states endure downturns.
The 2010-2012 eurozone debt crisis made people more aware of the currency union's shortcomings but Germany has resisted proposals for sharing financial burdens with other countries, fearing taxpayers there will be put on the hook for bad policies by fiscally irresponsible governments.