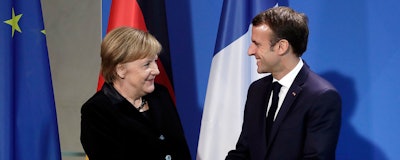 FRANKFURT, Germany (AP) — French President Emmanuel Macron and German Chancellor Angela Merkel consulted Sunday on migration, fixing the euro currency, Europe's defense, taxing digital companies and other issues as the two leaders looked to preserve their influence abroad while their authority flags at home.
Macron, who came to Berlin to take part in Germany's national remembrance day for the victims of war and dictatorship, urged European government to seize more responsibility for their own fate, especially regarding defense.
Macron said that the French-German alliance "is invested with this obligation not to allow the world to slide into chaos, and to accompany it on the road of peace."
He said that Europe can't play its role "if it doesn't take more responsibility for its defense and security and is content to play a secondary role on the international scene."
Merkel looked ahead to the European Parliament elections in May, which will give populist and anti-EU parties another chance to test their appeal with voters.
"We must do a great deal by May next year to achieve a more united, more sovereign and more efficient Europe, which we so urgently need," she said.
The two biggest countries in Europe can be a powerful force, but their leaders at the moment are hampered by falling domestic support. Macron has seen his poll ratings sag at home, where more than a quarter-million people protested Saturday over proposed gas tax hikes. Merkel has been a lame duck since saying she wouldn't seek another term.
Merkel has offered support for Macron's proposal for a European army someday. Both leaders have said Europe needs to depend less on others — such as the U.S. — for its defense.
U.S. President Donald Trump has unsettled NATO allies by demanding member countries either pay more for defense or "protect themselves," as he put it in a recent tweet.
However, ceremonial appearances and warm words offered ahead of a December summit on the euro can't hide the persistent friction between the French and German approaches to the European Union's economic issues.
Germany and France have apparently struck a deal on a common budget for the EU countries that use the shared euro currency, something Macron pushed for. German Finance Minister Olaf Scholz told the dpa news agency the proposal was to be presented to European finance ministers Monday.
The size of the budget — mentioned by French Finance Minister Bruno Le Maire as 20 to 25 billion euros — is far short of Macron's idea. The amount is only 0.2 percent of the eurozone economy, less than the several percentage points of gross domestic product originally mentioned by Macron.
The compromise underscores German reluctance to sign off on anything seen as transferring taxpayer money from richer countries like Germany to more fiscally shaky ones such as Italy or Greece.
The European summit in December is to take up limited proposals to strengthen the euro currency, such as upgrading the eurozone's bailout fund and a long-term road map for introducing EU-level deposit insurance.
The two sides can't agree on a tax on digital companies such as Amazon and Google. The French and the European Commission have proposed imposing such a tax, but Scholz said the issue should be left with the 36-member Organization for Economic Cooperation and Development.