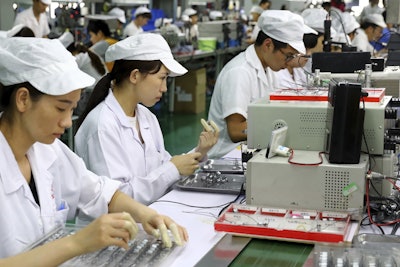 BEIJING (AP) — China's manufacturing activity fell to a two-year low in October as domestic demand weakened, an official measure showed Wednesday, adding to pressure on Beijing to shore up economic growth amid a tariff war with Washington.
The purchasing managers' index of the National Bureau of Statistics and an industry group, the China of Logistics and Purchasing, fell to 50.2 from September's 50.8 on a 100-point scale on which numbers above 50 show activity expanding.
Export orders weakened but the biggest impact was from cooling domestic demand. Auto and real estate sales have slumped since Beijing tightened lending controls last year to rein in a debt boom.
"Short-term downward economic pressure is relatively large," economist Zhang Liqun said in a statement released with the PMI.
Beijing needs to cut taxes, ease lending curbs and take others steps to "boost confidence in China's private sector," Citigroup economists said in a report.
Chinese exports to the United States have been unexpectedly resilient since U.S. President Donald Trump's first tariff hikes took effect in July in a battle over Beijing's technology policy.
Some of that is due to exporters rushing to fill orders ahead of duty increases. But producers of higher-value-added goods such as factory and medical equipment express confidence they can keep their U.S. market share even with higher prices.
"Softer foreign demand doesn't appear to be the main culprit," said Julian Evans-Pritchard of Capital Economics in a report.
The monthly measure for new orders tumbled 1.2 points to 50.8, according to NBS and the logistics federation. The new export order index declined 1.1 points to 46.9.
The report gave no details on U.S. demand for Chinese goods, but exports to the United States have risen by at least 13 percent over a year earlier each month since Trump's first tariff hikes.
The tariff impact "could become more material" if companies start to shift supply chains out of China to avoid higher U.S. charges, said the Citigroup economists.
China's $12 trillion-a-year economy already was cooling as communist leaders tried to steer it toward more self-sustaining growth based on domestic consumption instead of exports and investment.
Economic growth in the three months ending in September slipped to 6.5 percent over a year earlier from the previous quarter's 6.7 percent. It was the slowest rate since early 2009 during the global financial crisis.
The relative strength of China's economy has allowed President Xi Jinping's government to reject pressure for changes in initiatives such as "Made in China 2025" that call for state-led creation of champions in robotics and other technologies.
Washington, Europe and other trading partners say those plans violate Beijing's market-opening obligations.
The International Monetary Fund and other forecasters expect this year's economic growth to fall to about 6.5 percent from 2017's 6.8 percent.
Beijing tightened lending controls last year to rein in surging debt. But the downturn was unexpectedly abrupt, prompting the ruling party to reverse course and pump money into the economy by easing lending controls and boosting government spending on public works.
Such support "has yet to fully offset broader downward pressure," said Evans-Pritchard. He said Beijing will need to ease credit controls and step up spending "help put a floor beneath growth."