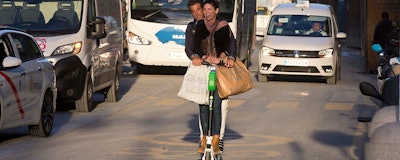 LONDON (AP) — Consumer prices across the 19-country eurozone rose at their fastest rate in nearly six years in October, largely on the back of higher energy costs, official figures showed Wednesday.
However, with oil prices having come off near four-year highs in recent weeks and with economic growth faltering, there is a strong chance that inflation may have peaked. And that could limit expectations of the European Central Bank joining its peers, like the Federal Reserve and Bank of England, in starting to raise interest rates next summer.
The headline measure of consumer price inflation rose by 2.2 percent in the year to October, up from 2.1 percent the previous month, according to statistics agency Eurostat. That is the highest since December 2012, when inflation was also 2.2 percent. The last time inflation was higher was in October of that year, when it struck 2.5 percent.
The main reason behind the increase has been a 10.6 percent spike in energy prices in the year to October. But the price of oil has fallen back about 10 percent recently, and economists say that could mean inflation will start to trend lower in the coming months.
Though the inflation rate is above the European Central Bank's goal of just below 2 percent, policymakers have voiced concerns about underlying price rises being low, a potential sign of economic weakness.
Stripping out volatile items such as energy, but also food, alcohol and tobacco, the so-called core inflation rate rose to 1.1 percent in the year to October from 0.9 percent the month before. The rate has oscillated between 0.9 percent and 1.1 percent since the spring, so rate-setters at the European Central Bank will likely want to see several months' worth of data to confirm that lower unemployment and rising wages are pushing up inflation sustainably.
As a result, they are not expected to raise interest rates for the eurozone anytime soon from their super-low levels — the benchmark rate stands at zero — even though they are expected to end their bond-buying stimulus in December.
"Even though inflation is now a little above target, the ECB will not be thinking about earlier rate hikes," said Bert Colijn, a senior economist at ING. "In fact, worries about deteriorating economic conditions are likely to become a larger concern in Frankfurt."
On Tuesday, Eurostat reported that the eurozone economy only grew by a quarterly rate of 0.2 percent in the third quarter. Though the halving in the quarterly rate may have been due to temporary factors such as the impact of new car emissions tests, there are concerns that the global economy as a whole is slowing, partly because of trade tensions between the U.S. and China.
Should eurozone growth weaken over a prolonged period of time, then inflation could trend lower as well, particularly if the steady improvements in the labor market end.
New figures show unemployment in the eurozone actually increased in September, albeit by only 2,000 to 13.153 million. The jobless rate remained at 8.1 percent, its lowest level since November 2008, when the world economy was reeling from the financial crisis.