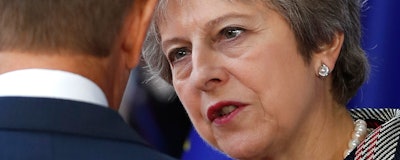 LONDON (AP) — British Prime Minister Theresa May was seeking to scotch a growing rebellion against her Brexit plans Monday, urging lawmakers to back her and saying a divorce deal with the European Union is 95 percent complete.
May's office said she planned to tell the House of Commons that "the vast majority" of issues are settled, including the status of Gibraltar, Britain's territory at the tip of the Iberian Peninsula.
The prime minister also appealed to voters directly with an article in The Sun tabloid, saying "the very last stages of the talks are going to be the hardest of all" but insisting "the finish line is in sight."
But May faces dissent from her political opponents — and, more worryingly, her own Conservative Party — over her blueprint for separation and future relations with the bloc.
Grumbling has grown since she suggested last week that Britain could remain bound by EU rules for two years or more during a transition period after it leaves on March 29.
London and Brussels say the main obstacle to an amicable divorce is finding a way to avoid customs posts and other barriers on the border between the U.K.'s Northern Ireland and EU member Ireland.
Both sides agree there must be no hard border that could disrupt businesses and residents on both sides and undermine Northern Ireland's hard-won peace process. But each has rejected the other side's solution.
An inconclusive EU summit last week ended without a breakthrough on the border impasse. Britain and the EU say they remain hopeful of striking a deal this fall, so that relevant parliaments can approve it before Brexit day.
But May's room for maneuver is limited by pressure from pro-Brexit Conservatives and her government's Northern Irish ally, the Democratic Unionist Party, who oppose any more compromises with the EU.
She's also opposed by pro-EU lawmakers who want to keep close ties with the bloc after Brexit.
Amid talk of a leadership challenge, criticism of May has grown increasingly intemperate. Weekend newspaper headlines saying the prime minister is entering "the killing zone" and faces a metaphorical knifing drew sharp rebukes.
Conservative legislator Sarah Woollaston tweeted to condemn the "disturbing & violent language" used by some of her colleagues.
Conservative lawmaker Grant Shapps said the coming week would be dangerous for May, as pro-Brexit Tories pondered whether to try to oust her.
"It's fairly high on the scale" of risk, Shapps told the BBC. "But she operates at the upper end of that scale almost every day of her life and remarkably, walks out at the other end."
With the Brexit clock ticking, fears are growing that Britain could crash out of the bloc without an agreement, an outcome that could create chaos at the borders and in both the EU and British economies.
The Confederation of British Industry says a majority of U.K. firms are poised to implement their Brexit contingency plans by Christmas, steps that could include cutting jobs, adjusting supply chains outside the U.K., stockpiling goods and relocating production and services overseas.