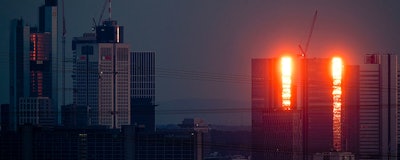 LONDON (AP) — In a bleak assessment, credit ratings agency Moody's warned Tuesday that Europe remains highly vulnerable to another economic downturn despite all its fire-fighting efforts over the past few years.
The Moody's report, published as Italian stocks and bonds were falling over the populist government's spending plans, said Europe "is not ready to cope with another major slump stressing the financial system."
It noted five vulnerabilities that could deepen the impact in Europe of the next downturn, including higher debt levels, peaking assets prices and regulatory risks.
"Overall, the amount of wiggle room available to mitigate the impact of another downturn is shrinking," said Paolo Leschiutta, senior vice president at Moody's.
The warning follows a relatively calm period for the 19-country eurozone, which has grappled with the global financial crisis and the subsequent debt crisis over the past decade.
The region enjoyed strong economic growth last year and unemployment has fallen to a decade-low rate of 8.1 percent. Greece, meanwhile, is no longer reliant on bailout loans.
As a result, the European Central Bank has started to rein in its crisis-era economic support measures. It is planning to halt its bond-buying stimulus program at the end of this year before possibly raising interest rates again next year.
However, the sense of calm has been shaken recently, largely due to concern over Italy. The new government there has fleshed out tax and spending plans that will, if enacted, see the country's budget deficit swell. Investors have taken fright — on Tuesday, the FTSE MIB stock index was down 1.3 percent, while the interest rate charged on the country's 10-year bonds rose a further 0.10 percentage point to 3.4 percent.
Without directly mentioning the plans of the Italian government, Moody's is warning that policies by governments and central banks over the past few years to heal the European economy will limit what they can do during the next economic decline.
It highlighted that high prices for some assets mean that there could be a sudden drop if interest rates rise quickly. And it said low growth and still high unemployment in some places continue to fuel economic insecurity and could foster further anti-establishment political movements.
Moody's wasn't alone in warning about the outlook for Europe. Berenberg Bank also said a "cocktail of risks" are constraining growth.
"After smooth sailing in 2017, the eurozone has faced a series of headwinds since February 2018," said Holger Schmieding, chief economist at Berenberg.
"The risks to growth range from trade tensions and a still unresolved Brexit to trouble in vulnerable emerging markets, higher oil prices and dangerous reform reversals in Italy."