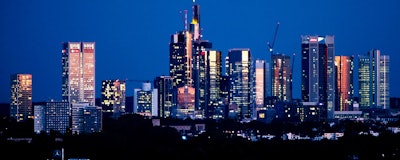 LONDON (AP) — Underlying inflation across the 19-country eurozone remains stubbornly low, official figures showed Friday, in what is likely to be a disappointment to policymakers at the European Central Bank who have been predicting a pick-up.
Statistics agency Eurostat said Friday that the core rate of consumer price inflation, which strips out volatile items like energy and food, fell to 0.9 percent in the year to September. That's down on the previous month's 1.0 percent and confounded expectations for a modest rise to 1.1 percent.
The fall provides further evidence that recent pay increases, particularly in countries like Germany, have yet to fully feed through the economy by encouraging companies to raise prices.
The headline inflation rate, which includes all items, rose to 2.1 percent from 2 percent, but that was largely due to higher energy prices on the back of steadily increasing oil prices.
Though the headline rate is above the ECB's goal of just below 2 percent, rate-setters want to see a pick-up in the underlying rate to make sure inflation is sustainable and not reliant on external factors like the price of oil.
This week, ECB President Mario Draghi said he expected underlying inflation to rise as a stronger job market pushes up wages.
He cited annual growth in negotiated wages of 2.2 percent in the second quarter, up from 1.7 percent in the first quarter. He added that the central bank was increasingly confident that the pick-up in wages would continue because wage agreements often last two years or more.
Peter Vanden Houte, chief eurozone economist at ING, said there could be factors linked to the recent slowdown in the eurozone's economic growth that may be offsetting the impact on inflation of higher wages.
"European households' expectations regarding the labor market have deteriorated over the summer, which is unlikely to boost their wage bargaining power," he said.
The fact that the headline rate has increased has been enough for the ECB to rein in its stimulus policies.
In June, the ECB announced that its monthly bond purchase program would come to a halt at the end of the year. The program effectively involves printing new money to stoke lending and, ultimately, inflation.
But interest rates, including the headline rate, which stands at zero, are not expected to rise before well into next year.
"The decrease in core inflation back to its June low should make the ECB less confident that inflation is broad-based and self-sustainable in the medium-run," said Daniel Harenberg, senior economist at Oxford Economics.
"Core inflation therefore continues to remain stubbornly subdued, despite signs of stronger wage growth which may represent a possible reason to delay the first rate hike beyond the summer 2019 as currently envisaged."