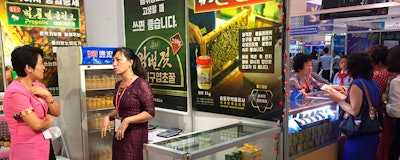 PYONGYANG, North Korea (AP) — Vendors selling everything from car batteries to "kangaroo essence" health pills have descended on Pyongyang for an international trade fair.
Though North Korea continues to be one of the most heavily sanctioned countries in the world, this year's trade fair, which opened in the North Korean capital on Monday, includes more than 320 companies and is making something of a comeback, with many Chinese entrepreneurs taking part.
Almost all of the companies with stalls at the fair are from North Korea or China. But several other countries are represented — a Russian medical technology company is selling heart-beat monitoring wrist watches, for example, and the kangaroo capsules, supposedly good for the health, are being sold by a New Zealand company. Businesses from a few more countries, such as Italy and Cuba, are there seeking business opportunities, but aren't selling anything.
Benjamin Qi, of the Beijing-based Ex-Easy Network and Technology Co. Ltd., said the number of Chinese at the fair this year had doubled or even tripled from the last couple of years.
"Definitely they are looking for partners who can sell their products, that's the most important because after they have their sales here in North Korea then they can start making some factories or some other investment," said Qi, who helped make arrangements for Chinese participants. "But the first step is they should sell their products."
O Ryong Chol, North Korea's vice minister of external trade, said in an opening address that the political climate on the Korean Peninsula has been changing fundamentally since leader Kim Jong Un met South Korean President Moon Jae-in in April and had a summit with President Donald Trump in June. Moon was due to arrive in Pyongyang on Tuesday for his third summit with Kim.
O said the North remains committed to building up its socialist economy and is ready to actively pursue trade deals with foreign countries. The trade fair itself was livelier and better attended than in the past few years, when the North was more actively testing its missiles and nuclear weapons and faced deeper political isolation.
"The DPRK in the future, too, will extend developing external relations with other countries on a higher level on the principle of respect of sovereignty, equality and reciprocity," he said, using the acronym for North Korea's official name, the Democratic People's Republic of Korea.
North Korea's trade fairs — another one is held in the spring — offer interesting insights into the country's often mysterious economic priorities.
The local products displayed were mostly clothing, traditional medicines, cosmetics, processed foods and beverages. But several of the country's main electronics makers showed off their brands' flat-screen TVs, mobile phones, laptops and tablets.
The Chinese vendors, mostly small or medium-sized businesses, focused on practical, daily life goods.
At one stall, a Chinese salesman from Dandong demonstrated stick-free frying pans, while a few stalls down a salesman from a Beijing-based company showed North Korean women how easily his irons could smooth wrinkles out of a man's dress shirt.
Qi said the companies select products that do not violate sanctions.
"China also follows international sanctions," he said. "So all products that belong to the sanctions list are not allowed to come here. We only bring those products that are allowed."