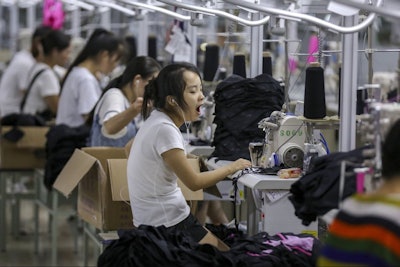 BEIJING (AP) — Chinese factory output and retail sales held up in August but investment weakened, government data showed Friday, adding to challenges for communist leaders as they fight a tariff battle with Washington.
The data showed little impact yet from government efforts to shore up flagging growth by easing lending controls.
Even before trade tension with Washington, growth in the world's second-largest economy was forecast to slow after Beijing tightened lending controls last year to cool a debt boom.
Exports to the United States have held up so far despite President Donald Trump's tariff hike on $50 billion of Chinese goods.
Communist leaders want to steer China to slower, more self-sustaining growth based on domestic consumption. But they appear to be worried retail spending and investment — bigger parts of the economy than trade — might be cooling too much.
The August data "suggest that more cracks started appearing in the economy," said Macquarie Bank in a report.
Growth in industrial output edged up to 6.1 percent from July's 6 percent. But growth in investment in factories, real estate and other fixed assets decelerated to 5.3 percent in the first eight months of the year from 5.5 percent in January-July.
Retail sales rose 9 percent, up from July's 8.8 percent gain. Online commerce spending rose 28.2 percent in the first eight months of the year over the same period of 2017.
Beijing responded to weakening activity by ordering banks to lend more freely to exporters that might be hurt by Trump's tariff hike.
Communist leaders have avoided a full-scale stimulus for fear of reigniting a surge in what private sector analysts say are dangerously high levels of corporate and household debt.
Exporters face a potentially bigger blow if Trump goes ahead with plans for penalties on $200 billion of Chinese goods. Beijing has issued a $60 billion list of American imports for retaliation.
Forecasters say it will take time for easier credit to work its way through the economy.
"We think growth will continue to slow in the coming months," said Julian Evans-Pritchard of Capital Economics in a report.