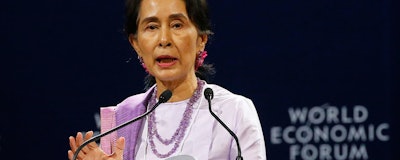 HANOI, Vietnam (AP) — A top Chinese official and leaders of several Southeast Asian countries said Wednesday that moves by the U.S. to limit trade and protect American businesses pose a grave threat to the world economy.
Uncertainty and destabilizing factors threaten to undermine growth, Chinese Vice Premier Hu Chunhua said at a World Economic Forum meeting in Hanoi, convened as Washington and Beijing have imposed penalty tariffs on tens of billions of dollars' worth of each other's products in an escalating trade conflict.
Hu, like the others, did not mention President Donald Trump by name but said some countries' "protectionist and unilateral measures are gravely undermining the rules-based multilateral trading regime, posing a most serious hazard for the world's economy."
The consensus of speakers at the gathering in Vietnam's capital, focused on how Southeast Asia will cope with the so-called "Fourth Industrial Revolution" — a shift to automation and artificial intelligence that threaten models for growth based on low-cost export manufacturing — was that opening markets further is the only option for future growth.
"History teaches us that self-isolation leads nowhere," Hu said. "Openness and cooperation are the only correct choice."
Business and trade require a degree of certainty, said Indonesia's finance minister, Sri Mulyani Indrawati.
Countries in Asia used to rely on the U.S. to lead, she said, but they have no choice but to work together now that the U.S. is no longer taking the same role. "Why don't we become the adult in the room," she said. "The world is just too big and too important to depend on only one country."
Vietnam's economy has boomed as companies like Honda and Samsung have set up big production bases, making the country a major exporter but also leaving it vulnerable to trade friction.
Indonesian President Joko Widodo drew laughs by likening trade wars to "infinity wars" in a reference to this year's movie "Avengers: Infinity War," based on Marvel's comics.
"We must prevent the trade wars from becoming the infinity war," Widodo said. He did not mention Trump by name, but drew hearty laughs and claps when he quipped, "You may be wondering who is Thanos?" in a reference to the movie's villain.
Thanos was not one single person, but "inside all of us," Widodo said.
"It's the misguided belief that in order for us to succeed, others must surrender. It is the misperception that the rise of some must mean the decline of others," he said.
Singapore's prime minister, Lee Hsien Loong, likewise said the 10 members of the Association of Southeast Asian Nations would work to keep markets and investment open and protect the "rules based" trading system.
In big, fast-growing economies like Vietnam and Indonesia, 3-D printing and digital-based businesses like ride-sharing company Grab are expanding quickly and creating new jobs to replace old ones lost as robots replace workers on factory floors.
In smaller, less developed countries like Cambodia, Laos and Myanmar that are still struggling to catch up with their neighbors, the spread of relatively basic technologies such as cellphones is helping drive huge changes, said Myanmar leader Aung San Suu Kyi. She noted that in just five years, the cost of a cellphone in Myanmar had plunged to just $1.50 from $1,500.
It's not just leapfrogging but a "quantum leap," she said.