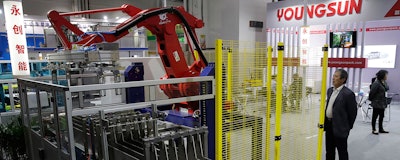 BEIJING (AP) — Narrow our trade surplus with the United States? No problem, say Chinese negotiators. But change technology tactics that are China's path to prosperity and its rightful place as a global leader? Absolutely not.
China highlighted the sensitivity of the issue with its threat Sunday to scrap deals aimed at settling a trade dispute with Washington if President Donald Trump's tariff hike on $50 billion of Chinese technology goods goes ahead.
It sheds more light on where President Xi Jinping's government might compromise and where it rejects any challenge to a Communist Party-led model for technology development that it sees as hugely successful.
"Where China does not budge is in areas it considers to be its fundamental development strategy," said Louis Kuijs of Oxford Economics, a former World Bank economist in Beijing. "If the U.S. is asking China to stop these industrial policies to become a global technology leader, that is where China says, 'Look, that's not possible.'"
The desultory end to weekend talks led by Commerce Secretary Wilbur Ross and China's top economic official, Vice Premier Liu He, revived worries Beijing and Washington are sliding again toward open conflict.
The dispute is in two largely unrelated halves: American frustration with China's overall trade surplus with the United States — a record $375.2 billion last year and forecast to grow — and more narrowly focused complaints about Beijing's technology policy.
China already agreed to address the first with a May 19 pledge to buy more American farm goods, energy supplies and other products.
That is fairly easy, say private sector analysts. Beijing can buy more U.S. natural gas and soybeans and less from Russia and Brazil. Its overall trade balance would stay the same.
The focus on China's trade surplus is politically appealing, economists say, but distracts from goals that matter more to American companies and that Washington's European and Asian partners support. Those include gaining the same access to Beijing's markets that its companies enjoy abroad and improving protection of intellectual property such as patents and trademarks.
"The Trump administration's fixation on the trade deficit is exactly where I think the Chinese would prefer to have this," said Paul Haenle, director of the Carnegie-Tsinghua Center for Global Policy in Beijing. "It kind of lets them off the hook on these bigger, more important issues."
Technology is thornier. It strikes at the heart of plans the ruling Communist Party sees as critical to reducing poverty that remains widespread despite two decades of explosive economic growth.
The United States and other governments complain Chinese technology industries are built on know-how Beijing steals or pressures foreign companies to hand over.
Before Beijing joined the World Trade Organization in 2001, such "technology transfer" often was an explicit requirement for foreign companies that wanted access to China's state-dominated economy.
Today, regulators say no one is obliged to give up technology. But foreign companies in autos, pharmaceuticals and other fields are required to operate through local partners. That forces them to share know-how with potential rivals or help them to create their own.
Xi's government sees Chinese strength in technology as a path to restoring the country's political and cultural greatness after two centuries of what nationalists see as humiliation by foreigners.
"Make no mistake about this: China aims to be the world's largest economy, its advocate of free trade, its geopolitical leader," Carl B. Weinberg of High Frequency Economics said in a report.
Beijing has staked out a role as defender of free trade in response to Trump's support for import controls. That is despite China's status as the most-closed major economy — a paradox some foreign businesspeople call, "free markets abroad, socialism at home."
Trump's tariff threat targeting technology goods reflects American alarm about China's status as a potential competitor in profitable fields from solar power to electric cars to biotechnology.
After a lull in tensions following China's May 19 pledge, the White House renewed its threat last week. It said details of goods targeted would be released June 15, but an earlier tentative list included telecoms, medical and other technology.
Beijing is ready to make concessions to avoid a real trade war with Washington, but worries about the economic and political costs, said Shi Yinhong, a professor at Renmin University's School of International Studies in Beijing.
"The Chinese government believes that if the concessions are too huge and hasty, it might not be workable for the Chinese economy or the Chinese government may feel it is being placed in a vulnerable political and diplomatic position by easily making concessions," said Shi. "It won't be the case that the United States can get whatever they want."
On Sunday, Ross said the two sides discussed specific exports Beijing might buy, but the meeting ended with no commitments.
An hour later, a statement carried by China's official Xinhua News Agency said if tariff hikes or other U.S. sanctions go ahead, then "all the economic and trade achievements negotiated by the two parties will not take effect."
Since November, China has announced plans to end limits on foreign ownership in its insurance and auto industries and to reduce import tariffs on autos and a range of consumer goods.
"China has shown flexibility in most areas where Washington is seeking greater market access," said Rajiv Biswas of IHS Markit. "However, a major challenge for China will be to reduce the bilateral trade deficit by $200 billion per year over the medium term as requested by Washington, since that will be a mammoth task."
Beijing has promised to give market forces the "decisive role" in allocating resources but also is building up state-owned companies that dominate fields including banking, telecoms and energy.
The Communist Party said in 2013 would increase its direct role in business decisions. That runs counter to the trend in economies such as Japan and South Korea that became more open and market-oriented as they developed.
Governments including Germany increasingly express concern Beijing is carrying out state-sponsored technology acquisition disguised as purchases by enterprises that officially are private.
They say Chinese leaders blur the lines between state and private by providing the money for deals such as automaker Geely's 2010 purchase of Volvo Cars and appliance manufacturer Midea's 2016 acquisition of German robotics maker Kuka.
In 2017, Trump vetoed the sale of a U.S. semiconductor manufacturer to a Chinese investor on national security grounds after Washington concluded the financing came from China's government.
The White House and business groups cite Beijing's "Made in China 2025" development strategy as an example of policies they say hamper market access and violate free-trade commitments.
It calls for China to develop global leaders in electric cars, renewable energy, robotics, artificial intelligence and other fields. Business groups say that inevitably will involve subsidies and protection against foreign competitors.
"It's tantamount to a country competing with a company," the chairman of the American Chamber of Commerce in China, William Zarit, said last week.
Kuijs of Oxford Economics said an extended conflict could lead to a "technological cold war" that would carve up the global market into isolated regions with different standards for mobile phones and other products.
"That will dampen productivity growth in the long term," he said.
___
AP researcher Yu Bing contributed.