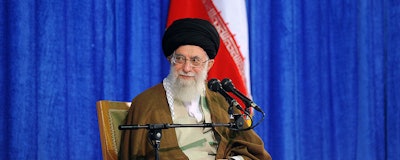 BEIJING (AP) — The Iran nuclear deal will not "fall apart" despite the United States withdrawing from the landmark accord, the European Union's representative to China said Wednesday.
The EU believes "that this is an agreement that belongs to the international community," Ambassador Hans Dietmar Schweisgut said during a press briefing in Beijing. "This is not an agreement that will fall apart if you just walk away."
Negotiated by the Obama administration, the 2015 Iran accord included EU members Germany, France and Britain, and had lifted most U.S. and international economic sanctions against Iran. In exchange, Iran agreed to restrictions on its nuclear program, making it impossible to produce a bomb and establishing rigorous inspections.
President Donald Trump abruptly withdrew the U.S. from the deal Tuesday and restored harsh sanctions against Iran.
Iran's parliamentary speaker, Ali Larijani, said in a speech Wednesday that his country will evaluate the EU's ability to protect the nuclear accord.
Speaking at an event to mark Europe Day, Schweisgut also urged Beijing to create a "level playing field" for European businesses operating in the country, warning that failure to do so could affect foreign investment.
Since 2013, Beijing and the EU have been negotiating a comprehensive investment agreement that seeks to improve transparency and reciprocity. As trade tensions simmer between China and the United States, Schweisgut said he hopes "the current international context" will encourage China to move forward with their talks.
"The level playing field we have been arguing for a long time needs to be established, otherwise I'm afraid that there may be a change in mood and atmosphere which we are already seeing emerging," he said.
Schweisgut commended Chinese President Xi Jinping's speech at the Boao business forum last month and said he hopes China's commitment to globalization will "translate into real action."
The chairman of the European Parliament's international trade committee, on a visit to China this week, criticized the Trump administration's approach to addressing the trade imbalance with China, saying it undermined the system of rules that govern global trade.
"The multilateral trading system is under threat as one big partner worldwide is undermining this global trading system with tariffs and rule of power," Bernd Lange told reporters in Beijing.
Trump has threatened higher tariffs on $150 billion of Chinese goods in response to complaints that Beijing violates its free-trade commitments by stealing or pressuring foreign companies to hand over technology.
"These bilateral negotiations are based on partnership and should not be based on pressure as the U.S. is trying to get their interest through," he said.
In response to questions about China's human rights record, Schweisgut said the EU will continue to raise the cases of Gui Minhai, a Swedish bookseller detained in China, and Liu Xia, the widow of Chinese Nobel Peace laureate Liu Xiaobo.
Though she has never been charged with a crime, Liu Xia has been confined under guard at her Beijing home following her husband's arrest in 2010 with virtually no contact with the outside world.
Rights groups and foreign countries have called for her to be allowed to leave China and Germany said earlier this month it would welcome her after a recording was released of her crying in desperation.
Gui and Liu's cases are not "fading away," Schweisgut said, noting that human rights are an "integral part" of the EU's relationship with China.