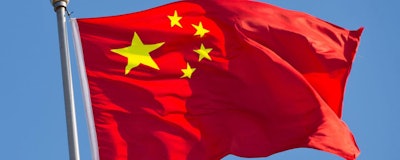 BEIJING (AP) — U.S. and Chinese companies on Wednesday signed business deals the two sides valued at $9 billion during a visit by President Donald Trump in a tradition aimed at blunting criticism of Beijing's trade practices.
China's biggest online retailer said it pledged to buy $1.2 billion of American beef and pork but no other details of the 19 agreements signed at a ceremony attended by U.S. Commerce Secretary Wilbur Ross were immediately released.
Such contract signings are a fixture of visits by foreign leaders to China and often involve agreements negotiated weeks or months earlier that Beijing saved to showcase its importance as a market.
Trump has made narrowing the multibillion-dollar U.S. trade deficit with China a priority of his administration. He is due to hold talks with Chinese President Xi Jinping.
"Addressing the imbalance in China trade has been a central focus of collaborative discussions between President Trump and President Xi. And achieving fair and reciprocal treatment for the companies is a shared objective," said Ross. "Today's signings are a good example of how we can productively build up our bilateral trade."
Online retailer JD.com said it would buy beef from the Montana Stock Growers Association and pork from Smithfield Foods Inc. over the next three years. Smithfield is owned by China's WH Group, the world's biggest pork packer.
JD.com said it would buy $2 billion of U.S. goods over three years.
China's trade surplus with the United States in October widened by 12.2 percent from a year earlier to $26.6 billion, according to Chinese customs data released Wednesday. The total surplus with the United States for the first 10 months of the year rose to $223 billion.
The chairman of the American Chamber of Commerce in China, William Zarit, expressed hope ahead of Trump's arrival that the signing of business deals wouldn't draw attention away from "structural issues" including Chinese limits on foreign activity in finance, health care and other industries.
China is the No. 3 export market for the United States after Canada and Mexico. U.S. exports to China rose 77 percent from 2007 to 2016 but Washington reported a $347 billion trade deficit with China last year.