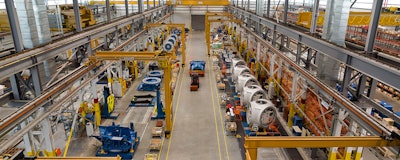 BERLIN — German factory orders rose for a second consecutive month in September, powered by a large increase in demand from other eurozone countries.
The Economy Ministry said Monday that orders were 1 percent higher than the previous month, following a 4.1 percent rise in August. Orders from other nations in the 19-nation eurozone were up 6.3 percent, while domestic orders slipped 0.1 percent and demand from other countries was down 1 percent.
The increase was led by demand for investment goods such as factory machinery, which was up 4.9 percent compared with the previous month.
The data add to promising signals for growth in Germany, Europe's biggest economy.