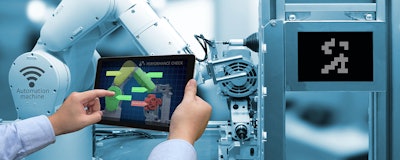 According to research from Capgemini's Digital Transformation Institute, manufacturers expect investments in smart factories will drive a 27 percent increase in their operation efficiency over the next five years. Additionally, this would add $500 billion in annual added value to the global economy. The findings were announced in Capgemini's Smart Factories report.
Typically a smart factory is defined as using digital technologies such as IoT, Big Data analytics, Artificial Intelligence and Advanced Robotics to increase a company's productivity, quality and flexibility. These factories include collaborative robots, workers may us augmented reality components and machines send alerts when they need maintenance.
"This study makes it clear that we are now in the digital industrial revolution. The impact on overall efficiency will be profound," said Jean-Pierre Petit, Global Head of Digital Manufacturing at Capgemini. "The next few years will be critical as manufacturers step up their digital capabilities and accelerate their digital outcomes to maximize company benefits."
Of course, this shift to smarter factories will change the workforce as well. Because previous automation opportunities have reduced low-skill jobs, companies are now trying to address the labor skills to adapt to the new environment.
More than half (54 percent) of respondents are providing digital skills training to their employees and 44 percent are investing in digital talent acquisition to bridge the skill gap. There are increased opportunities for highly skilled workers too in areas such as automation, analytics and cybersecurity.
Grégoire Ferré, Chief Digital Officer at Faurecia said, "At Faurecia, we are seeing the greatest success in our employees working alongside intelligent tech. For example, we use smart robots in our business where there are ergonomic issues, ultimately creating a safer environment for workers and it gives them time back to focus on other, more-important tasks."
Manufacturers expect that 21 percent factories will be smart factories by the end of 2022. Aerospace and defense and industrial manufacturing and automotive are expected to be the leaders of this transition.