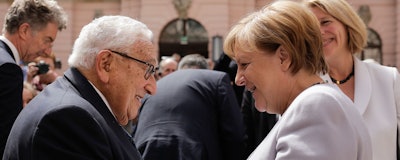 BERLIN (AP) — German Chancellor Angela Merkel on Wednesday marked the 70th anniversary of the Marshall Plan, remarking pointedly that the U.S. embrace of open markets in post-World War II Europe served America's own interests.
Then-Secretary of State George C. Marshall outlined an aid plan for Europe in a June 1947 speech at Harvard University that kicked off what became known as the Marshall Plan. The anniversary comes amid concern in Europe and elsewhere about President Donald Trump's "America first" approach to trade and other matters.
Former U.S. Secretary of State Henry Kissinger, who joined Merkel in Berlin to commemorate it, said that Marshall's speech "proclaimed above all the end of American isolationism."
Neither he nor Merkel referred directly to Trump or his administration. The German leader, however, stressed the importance of standing up for shared values, of balancing interests and trying to create "win-win situations."
Marshall backed open markets and wanted to help get Europe back on its feet through close economic ties with the U.S., creating prosperity and stability and securing peace, Merkel noted.
"Of course, that wasn't an altruistic approach either — it also served, in the best sense, to represent the United States' own interests," she said. "The countries of Europe were to be built up as trade and business partners of the U.S."
Marshall "was convinced that busy trade benefited all concerned," Merkel added. "We should not forget today how right that is."
Merkel reiterated that "we in Europe are called on more than ever to recognize that we have our fate to some extent in our hand, and must take it in our hand." That, she said, goes for foreign, security and trade policy.
She stressed that Germany's "integration in the Western community of values was, is and remains the cornerstone of our foreign and security policy" whatever the changing challenges Europe and the U.S. face.