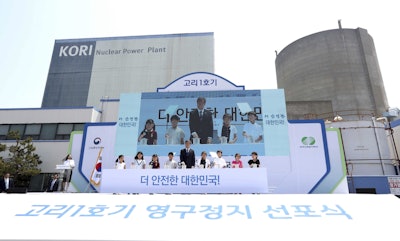 South Korea, one of the world's largest nuclear electricity producers, will scrap plans to add nuclear power plants, its president said Monday, signaling a shift in decades of reliance on nuclear energy.
President Moon Jae-in said South Korea will move away from nuclear energy and will not seek to extend the life of existing plants.
He also vowed to cut South Korea's reliance on coal. South Korea will shut 10 old coal power plants and stop building more coal power plants.
"So far South Korea's energy policy pursued cheap prices and efficiency. Cheap production prices were considered the priority while the public's life and safety took a backseat," Moon said at a ceremony marking the shutdown of the country's oldest power plant, Kori 1, in Busan, home to South Korea's largest cluster of nuclear power plants.
"But it's time for a change."
The speech was Moon's followup on his presidential campaigns to cut coal and nuclear power. Greenpeace and other environmental groups welcomed Moon's announcement.
Since the Kori 1 reactor went online in 1978, the resource poor-country added 24 nuclear power plants to meet rising demand for electricity from rapid industrialization and economic development. Last year, a third of electricity in South Korea was produced from nuclear power plants. Its nuclear power production from 25 nuclear plants in 2016 was the fifth-largest in the world, according to the World Nuclear Association.
South Korea is also one of the few countries that have exported its nuclear reactor technology, an area once seen by some of its construction companies as a new cash cow. Former President Lee Myung-bak promoted nuclear energy as part of its clean energy strategy and helped local companies win billions dollars of deals to build a nuclear reactor in United Arab Emirates.
But South Koreans' enthusiasm for nuclear energy quickly waned following the 2011 Fukushima meltdowns in its neighbor Japan. In the following year, fake parts scandals prompted an investigation and spread fear over nuclear plants' safety. Recent earthquakes in southeastern South Korea also dented public support in the country that was long believed to be safe from earthquakes. South Korea is also searching for answers on how and where to store spent nuclear fuels permanently.
To decommission the Kori 1 reactor, South Korea plans to invest developing its own decommissioning technology and experts in the area. The decommissioning will take at least 15 years and cost 643.7 billion won ($569 million), the energy ministry said.