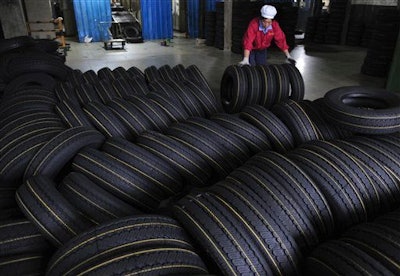 A former tire factory in Oklahoma City has been dismantled, cut up and sent to recyclers.
A sprawling slab foundation and huge piles of gravel that used to be the plant's concrete walls are all that remain of the Bridgestone/Firestone Dayton Tire factory, which has been closed for almost a decade, The Oklahoman reportedSunday.
In 2006, Bridgestone/Firestone warned its more than 1,600 employees it couldn't cope with the foreign competition in the replacement market for the small-sized tires it made at the plant.
Executives said Dayton Tire could close. The company considered retooling the plant but opted to shutter it. By 2007, it was closed after almost 40 years of manufacturing and the factory and warehouse space totaling 2.5 million square feet and 310 acres went on the market.
Producers Cooperative Oil Mill bought the plant and 164 acres in 2009, and recycling the plant was the biggest job Full Metal Demolition, a 3-year-old company in Plano, Texas, had ever done, said Dave Henry, operations-sales manager.
Mid American Steel & Wire in Madill got the steel — 11,000 tons of it — carved into 3-foot sections. Derichebourg Recycling USA got tin, aluminum and other shreddable metals. And Big Industrial took possession of those piles of gravel — 12,000 tons of it — to use as it redevelops the site, which it just bought back from Producers Cooperative, now that the factory is gone.
The job was a plum for Full Metal Demolition, which picked up other work in Oklahoma City while working on the tire factory. Plus, there were the contents.
"The plant had a lot of very good materials in it — some equipment, like transformers and backup generators and a lot of copper wiring and a lot of heavy steel gauges for columns," according to broker Randy Lacey of the commercial realty firm CBRE.
"And all that stuff could be harvested and recycled, even down to the concrete walls, which are crushed and on the (site) right now," Lacey said.
Information from: The Oklahoman, http://www.newsok.com