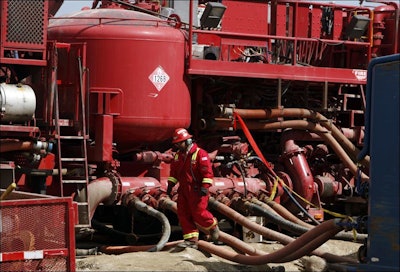 A new report predicts that increasing U.S. shale oil production and lifting the country's ban on crude exports could make it one of the world's top crude shippers by 2025.

The analysis, conducted by Dallas-based Turner, Mason & Company on behalf of the U.S. Energy Information Administration, predicted the country could eventually move 2.4 million barrels of crude oil abroad per day in that scenario.

Based on 2013 estimates, that would put the U.S. behind only Saudi Arabia, Russia and the United Arab Emirates worldwide.

The study anticipated that oil refiners would need to invest $2.3 billion to add 0.8 million barrels per day of capacity, while crude imports would decline by 36 percent between 2013 and 2025.

Should the country increase shale production but maintain current export limits, however, the report expected the U.S. would need to absorb 7.2 million barrels per day of incremental production over that span.

According to that model, refiners would need to add 2.4 million barrels per day of processing capacity at a cost of $11 billion. Crude runs at refineries should increase by 10 percent by 2025, while exports of refined oil are expected to jump from 3.4 million barrels per day in 2013 to 4.5 million in 10 years.

Crude exports, meanwhile, would increase modestly, but only up to the amount that can be absorbed by Canadian refineries. Crude imports, with the exception of heavy sour crude, would effectively end.
Under a third scenario — in which current export restrictions remained amid lower production levels — U.S. refiners would invest $1.8 billion over the 10-year span to absorb 3.5 million barrels per day of incremental light crude production.
The study also indicated that lower production levels would not dramatically change the U.S. crude market even if lawmakers lifted the export restrictions.
Oil companies called for an end to the export ban in light of historically high U.S. production. They raised concerns about refinery capacity and argued the limit artificially kept domestic oil prices down.
Refiners, meanwhile, argued that they're well-equipped to handle new production. They hope to benefit from the glut of cheap domestic crude; the EIA report did not address the impact of a gulf between domestic and global oil prices on U.S. production.