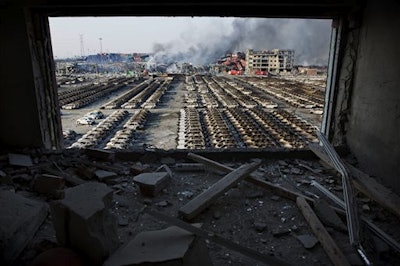 BEIJING (AP) — China's top official on work safety was fired and is a suspect in a corruption investigation, state media said Wednesday, weeks after one of the country's worst industrial accidents in years.
Fires and explosions at a hazardous material warehouse in the eastern port city of Tianjin on Aug. 12 have killed 139 people and left 34 missing.
The fall of Yang Dongliang, 61, is unlikely to be linked to the blasts, although he had previously worked for 18 years in Tianjin in state industry and local government, rising to executive vice mayor.
Formerly the director of the State Administration of Work Safety, Yang was suspected of "severely violating" party discipline and state laws, which typically means corruption, according to the official Xinhua News Agency. No details were provided on the allegations.
His son, who works in state industry, was reportedly taken by investigators for questioning.
President Xi Jinping has been cracking down on corruption since he rose to power in late 2012, warning the widespread corruption erodes the rule of the Communist Party.
China's work safety records have been improving but are still poor. Last year, China recorded 290,000 accidents with 66,000 deaths. The figures include not only industrial workplaces but also mines and auto accidents.