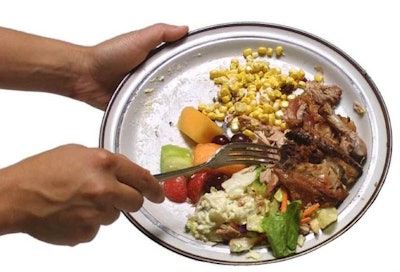 Americans widely acknowledge that the amount of food wasted in the country is a problem.
Researchers from the University of Missouri, however, suggested that consumers should pay particular attention to the amount of meat that they throw away.
Bioengineering professor Christine Costello and a research team evaluated food waste from four all-you-can-eat restaurants and analyzed the greenhouse gas emissions for each food category.
Although fruits and vegetables comprise a larger percentage of the country's wasted food, meat required more emissions when researchers accounted for fertilizer use, utility demands and transportation needs.
"If consumers choose to prepare extra food 'just in case,' they should use plant-based foods," said engineering professor Ronald McGarvey, a study co-author.
McGarvey hopes to develop future techniques that improve both food production and consumers' ordering decisions in an effort to curb food waste.
A June study from Johns Hopkins University valued the amount of food wasted by Americans at $161.6 billion annually.