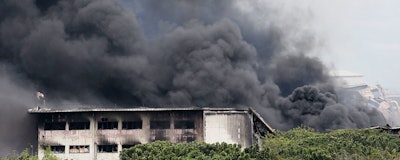 GENERAL TRIAS, Philippines — More than 120 workers, including two Japanese, were injured and at least one was missing in a fire at a huge factory south of the Philippine capital that sent thousands of employees running to safety, an official said Thursday.
The fire at House Technology Industries was under control but had not been fully extinguished nearly 24 hours after it started in General Trias town in Cavite province south of Manila, Gov. Jesus Crispin Remulla said.
Firefighters hoped to enter and inspect the gutted factory, which occupies six hectares (15 acres) of land, later Thursday.
About four of the injured remained in critical condition, Remulla told reporters, adding that some employees jumped from windows to escape the blaze at the three-story building, where pre-fabricated house parts are manufactured for export to Japan.
"We can't conclude anything as long as the fire is still there and we have not seen any casualties," Remulla said on the possibility of workers being trapped in the overnight inferno. But he said "we're ready for the worst-case scenario."
The fire apparently started when a machine malfunctioned and triggered small explosions in a section with combustible materials as two shifts of workers of about 3,500 each were changing places, he said.
Massive amounts of black smoke billowed in the night sky as red flames raged through the factory, which employs about 15,000 workers and is the largest in Cavite province, he said.
Company officials were doing a count to find out if any more people were missing at the factory, located in a special economic zone in General Trias, about 26 kilometers (16 miles) south of Manila.
In 2015, a fire that rapidly spread in a rubber slipper factory in a northern Manila suburb killed 72 people, prompting then President Benigno Aquino III to order a thorough inspection of some 300,000 factories in metropolitan Manila alone. He ordered charges to be filed against the owners of the Kentex Manufacturing Corp. and local officials, who he said ignored the factory's failure to meet safety requirements.
The Kentex fire was one of the worst in the country after a 1996 disco blaze that killed 162 people in Manila.