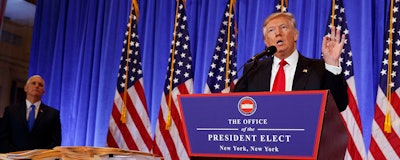 DAVOS, Switzerland — President-elect Donald Trump's threats to firms using Mexico as a manufacturing base will be counterproductive and could eventually cost thousands of American jobs, Lawrence Summers, the former U.S. Treasury Secretary, warned Wednesday.
Summers noted that Trump's "rhetoric and announced policies" over Mexico have led to a big fall in the value of the Mexican peso against the dollar.
The peso has fallen almost 20 percent against the dollar to a record low since Trump's victory in November. That makes it even cheaper to invest in Mexico and export goods from there.
"That decline in the peso is a dagger at Ohio; it is a major change in the relative attractiveness of locating production activity in Mexico versus locating it in the American heartland," Summers told a panel at the World Economic Forum in Davos, Switzerland.
"And the consequence of that is measured not in the dozens or hundreds but in the thousands, or ten thousands or even hundreds of thousands of jobs."
The lesson of history, he added, is that "classic populism is invariably counterproductive for those in whose name it is offered as a policy regime."Ahead of his inauguration as president Friday, Trump has demanded the auto industry build more cars in the U.S. Ford, Hyundai, General Motors and Fiat Chrysler have all recently announced large investments in their U.S. operations and the creation of jobs.
Carlos Ghosn, chairman and CEO of the Renault-Nissan alliance, has a contrasting view to that of Summers, arguing that carmakers will likely increase capacity in the U.S. in the years to come.
Speaking to The Associated Press, Ghosn said Trump's policy was clear: "It's America first and jobs in the United States."
Ghosn said he hoped this would be expanded upon in the coming days with clear policies from the Trump team.
"All the carmakers have listened to this message and will act in consequence," he said.
If the U.S. car market, as the world's second-largest, continues to grow, then Ghosn expects "more and more capacity."