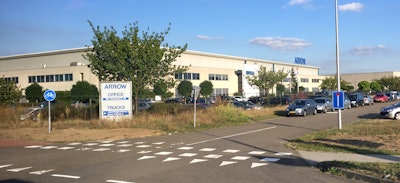 Hello again from the land of the Dutch. As I said in my first blog, I'm over in The Netherlands on a logistics press trip with a group of other supply chain trade publication editors. We're visiting supply chain and logistics companies and touring facilities around the country — which is one-third the size of Ohio.
Check out my Day One blog for my recap of Monday, when we learned all about and saw different parts of The Port of Rotterdam.
Technically, this is a 5-day trip for me. But since my first and days are travel days, my logistics tour essentially spanned three days.
The first half of our day was full of company meetings with logistics service providers and then one of the world's largest material handling providers.
Here's what Day Two (10/4) encompassed:
We started with a short bus ride to a business park in Tilburg, where we visited Logistics Mid-Brabant, a facilitator of cooperation between companies, educational institutions and government to drive logistics innovation. There, we were presented pitches by three start-up logistics providers:
12return — which provides solutions for the product return process, or reverse chain. The company offers software for companies to manage the process of returns. 12return has been rolling out their services to the U.S. throughout 2016 and plans to expand further worldwide next year.
ChainBalance — Which helps fashion retailers improve in-season margins by optimizing slow-moving replenishment. The company utilizes shorter sales forecasts, lower inventories and focusing SKU locations where sales are moving the needle. In doing so, ChainBalance helps these retailers reduce their reliance on markdown budgets.
TransSmart — A knowledge-based company that provides smart shipping plugins. Providing innovative shipping solutions for small and mid-sized companies, TransSmart has seen 30 percent annual turnover growth since 2011.
We were also introduced to New Ways — which facilities collaborative distribution for international markets. The most interesting part of this was their new freight trucking model of 'drop and swap,' in which a truck drops off a full container and picks up an empty one, or vice-versa, and moves on immediately as a third party handles the loading and unloading process. This can save several hours in the supply chain process for each truck.
From there it was an hour us ride to Veghel, where we visited the campus headquarters of Vanderlande — the world's top provider of baggage handling systems for airports and sorting systems for parcel and postal service. The company is also a major supplier of warehouse automation solutions. Here's some Vanderlande facts:
Every day, its systems move 8.8 billion pieces of luggage and 300,000 packages
It has more than 4,000 employees
It currently has more than 260 projects across 105 countries
Vanderlande's 20,000 square meter campus — which opened just recently in mid-September -- has wi-fi throughout, a fitness center, restaurant and more than 1,000 workstations. The company's business areas are broken as follows:
Baggage handling — 36 percent
Warehouse automation — 22 percent
Parcel/Postal — 22 percent
Life-cycle maintenance — 20 percent (Vanderlande's fastest-growing segment)
We got to Vanderlande's Innovation Center, where the company tests and exhibits its new solutions, or those that it partners on with customers. We weren't allowed to take photos, but we saw new mixed-pallet organizing robots from ABB, an auto-racking system and ergonomic lifting solutions.
After lunch at Vanderlande, it was another hour bus ride to Venlo, the top logistics hotspot in the Netherlands. Located right on The Netherlands German border, Venlo is full of growing business parks, comprised of logistics companies and facilities.
We visited Seacon Logistics, a logistics chain director since 1985. As a non-asset organization, Seacon specializes in delivering tailored logistics solutions, finding the right partner for the right products. The company has a worldwide network of 85 partners, with key accounts including industrial products companies Sandvik and Saint Gobain Abrasives.
From there, we visited nearby Trimodal Container Terminal (TCT), a barge terminal that is an extension of the ECT Terminal we visited in Rotterdam Monday. Unlike ECT Rotterdam, which is fully automated, TCT is what I envisioned in a terminal, with manual crane and tractor operators moving cargo back and forth. A few members of our group actually went up into the crane operator's box (I wanted to, but we didn't have time for a second group).
Here's some photos and video from TCT: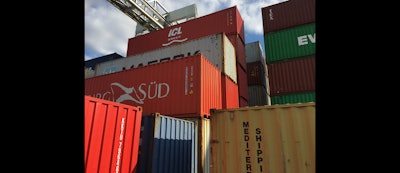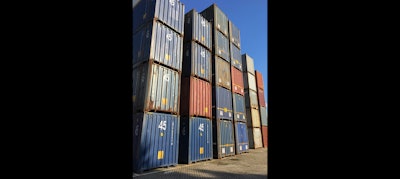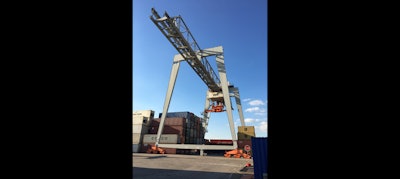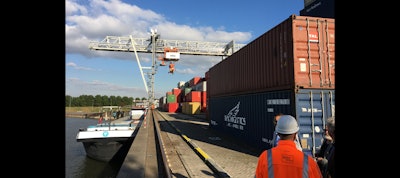 After the terminal, we took a bus tour of the west and north areas of Trade Port Venlo — a massive business park that is home to some of the largest XXXL warehousing sites in Europe. We saw familiar U.S.-based companies with facilities here, including Hurco Metal, Office Depot and Arrow. The distribution centers seemed to keep getting bigger throughout our tour, ranging from 30,000 square meters to more than 70,000.
Less than 6 miles from the German border, most of the workers throughout the business park are German. Many others come from Poland. Many employees bike to work, using dedicated bike highways.
Day Two ended with a visit to Trade Port Venlo's Innova-Tower, a new logistics control building. There, we were presented with more facts about the Venlo business park and overall logistics information about the region. These facts included:
The park has 160 million customers within 310 miles
There are eight airports within an hour drive of the park center
Tomorrow (it's already 9:45 p.m. here as I post this) I make the day-long trip back to Wisconsin. Stay tuned for my Day Three blog, as well as other blogs from this trip.