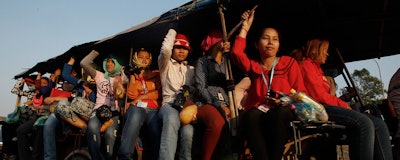 PHNOM PENH, Cambodia (AP) — The Cambodian government has agreed to raise the minimum wage for clothing and footwear workers, a move that could help placate workers in the country's biggest export industry.
The Ministry of Labor, Vocational and Training said in a statement that the minimum wage would be raised by 9.2 percent to $153 a month, effective at the beginning of next year. The increase falls short of the $171 a month wage proposed by unions.
The clothing and footwear industry is Cambodia's biggest export earner, employing about 700,000 people in more than 700 garment and shoe factories. In 2015, the Southeast Asian country shipped nearly $7 billion worth of products to the United States and Europe.
The statement said the decision was made after six days of tense negotiations by a commission representing employers, workers and the government.
The major Cambodian labor unions traditionally have been loosely allied with opposition parties, posing a potential political threat to the government of long-serving Prime Minister Hun Sen.
The workers' ability to mobilize in the streets has long been a concern for the government, with workers often playing a major role in political protests, not just labor campaigns.
Four years ago, a union campaign to double the then-minimum wage of $80 resulted in clashes with police and a crackdown on public protests. In early 2014, at least four people were killed and more than 20 injured when police in the outskirts of Phnom Penh opened fire to break up a protest by striking garment workers.
A $100 level was set for 2014 and $128 for 2015 and $140 this year but pressures over wages remained strong.
Wages in Cambodia remain low by international standards, largely because of pressures to compete with other low-cost production centers such as Bangladesh and Vietnam.
"All the workers' union leaders and I, myself, are not happy with this new increased wage," said Ath Thorn, president of the Coalition of Cambodian Apparel Workers' Democratic Union, who took part in the negotiations. "Due to the general expenses of the workers being too high, especially the prices of goods that keep increasing day by day, I think the fair minimum wage for the workers should be $171 per month."
Factory owners had proposed a $147 minimum wage.
The Labor Ministry said that when other benefits are calculated, the workers will make an average of $170 to $181 monthly next year.
Ath Thorn said he will send a letter to the government urging the Labor Ministry to consider supplementing the minimum wage with other benefits