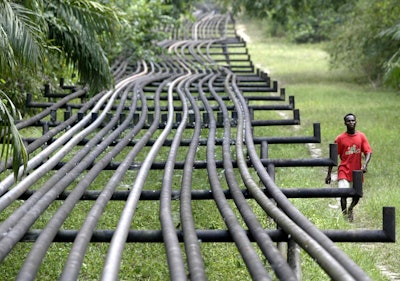 A fire has forced the closure of a key oil pipeline in Nigeria, Shell said Tuesday, amid ongoing challenges including militant attacks that are losing oil multinationals billions of dollars in what used to be Africa's biggest petroleum producer.
The Trans Niger Pipeline feeds the strategic Bonny Export Terminal, which militants attacked last week.
Militant attacks, low oil prices and weak refinery margins have cost Dutch-British Shell and U.S.-based Chevron and ExxonMobil $7.1 billion in the first half of the year, representing about 70 percent of their earnings, Lagos-based SBM Intelligence risk analysts estimate.
The Trans Niger Pipeline was shut down Monday to investigate the fire's cause and impact, Shell Nigeria spokesman Precious Okolobo said. The fire was "raging" until Tuesday morning, environmental activist Celestine Akpobari said.
Shell has refused to comment on claims by the Niger Delta Avengers militant group that it bombed the main export pipeline from Shell's Bonny terminal on Friday and crippled exports. The claim came just days after the terminal had resumed exports following repairs from a May bombing by the group.
Shell's other big export terminal in Nigeria, Forcados, was attacked in February and took seven months to repair, costing the company some $3 billion, according to Africa Confidential newsletter. Bonny has capacity to export 1.25 million barrels of crude a day, and Forcados carries about 400,000 barrels daily.
Another major export terminal, ExxonMobil's 300,000-barrel-a-day Qua Iboe, is expected to resume exports soon after a May explosion by the militants and an accident in which a drilling rig damaged a pipeline.
Friday's attack broke a month-long ceasefire between the government and militants to allow negotiations to resolve the conflict. The Avengers have said "there has been no progress and no breakthrough" in negotiations, while Nigeria's military has continued operations in which several militant commanders have been arrested and some killed.
The Avengers want multinationals to withdraw from the oil-producing southern Niger Delta, saying local residents have reaped nothing but poverty while fishing grounds and agricultural fields have been destroyed.
All the multinationals operate in joint ventures in which the major shareholder is Nigeria's government, whose budget spending is jeopardized by low oil prices and production. Oil provides 70 percent of government revenue.