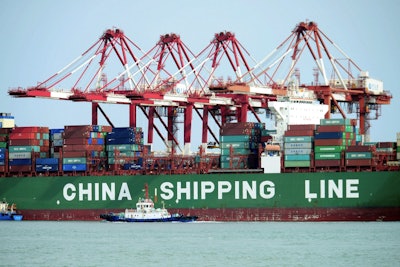 China on Thursday accused the United States of using bullying tactics and blackmail in threatening to impose tariffs on hundreds of billions of dollars of Chinese imports, ramping up criticism that the measures levied in the name of balancing trade would harm both countries' companies and the world economy.
Commerce Ministry spokesman Gao Feng said the U.S. was damaging the global trading order and that its methods would harm its own business interests as well as those of trading partners.
"We oppose the act of extreme pressure and blackmail by swinging the big stick of trade protectionism," Gao told reporters at a news conference. "The U.S. is abusing the tariff methods and starting trade wars all around the world."
U.S. President Donald Trump has ordered 25 percent tariffs on $50 billion in Chinese goods in response to Beijing's forced transfer of U.S. technology and alleged intellectual property theft, and threatened to impose duties on $400 billion more in Chinese products. All told, the scope of the tariffs would be equivalent to 90 percent of the goods that China shipped to the United States last year.
Trump's order of 25 percent tariffs, which are set to take effect July 6, were quickly matched by Beijing on U.S. goods exported to China.
Gao said accusations of forced technology transfer and intellectual property theft "seriously distorted the history and reality."
U.S., European and other governments have repeatedly complained their firms operating in China are being compelled to surrender technology as part of Beijing's bid to create world-leading companies in fields such as robotics and electric cars under a program it calls "Made in China 2025."
Economists note the U.S. global trade deficit started to balloon several years before China's surplus started to surge. They say that suggests the reason behind the imbalance lies somewhere other than China.
Trump's thinking on trade is largely misguided, said Yukon Huang, senior fellow in the Asia program at the Carnegie Endowment for International Peace.
"The reason why we have a trade war is the fundamental assumptions which triggered this, in my view from a White House perspective, is totally wrong," Huang said.
Such assumptions, he said, included the idea that the trade deficit is a problem and that there's too much American investment in China — when in fact there's too little.
Economists say the bulk of China's trade surplus with the United States stems from the country's role as the final assembly point for components imported from South Korea, Taiwan and other economies. Meanwhile, China's imports of food, clothes, cosmetics and other consumer goods from United States are growing, but with Chinese incomes at about one-tenth of U.S. levels, spending power is limited.
"If you begin with faulty assumptions, you're going to come (up) with faulty policies," Huang said. "And that's why we're having a very difficult time trying to figure out what is the solution."