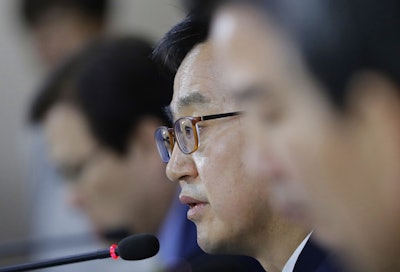 South Korea said Thursday that it has reached an agreement with General Motors to inject $4.35 billion in funding and other measures to turn around the loss-making Korean unit.
Finance Minister Kim Dong-yeon told reporters that the American automaker agreed to other measures meant to ensure the company stays in South Korea for at least 10 years. GM will be restricted from selling any shares for the next five years and obligated to retain at least a 35-percent stake in its Korean unit for the following five years.
South Korea can also veto a sale by GM of 20 percent or more of its assets during the next decade, effectively blocking any withdrawal during that time.
GM's restructuring plans include a shutdown of one of its four plants in South Korea and reducing its workforce by nearly 3,000. They stoked worries that GM Korea, the country's third-largest carmaker and provider of more than 150,000 jobs, may permanently close.
Kim said the latest measures should ensure GM's long-term presence.
"We have laid out the foundation for GM to continue to do businesses beyond 10 years in a win-win situation for both the South Korean economy and GM," he said.
GM agreed to open a new regional headquarters in South Korea to manage its strategies for the Asia and Pacific region, apart from China. It earlier scaled down a regional headquarters in Singapore.
Under the agreement, the state-controlled Korea Development Bank, GM Korea's second-largest shareholder with a 17-percent stake, will inject $750 million while GM will provide $3.6 billion in fresh loans for capital spending for the next 10 years. GM will also convert its Korean units debt of $2.8 billion into equity, helping it save on interest fees.
Apparently alluding to criticism of taxpayer-funded bailouts of loss-making shipbuilders, the government said GM Korea will surely survive and turn around with the latest funding if GM carries out its promises to allocate two new vehicle models to Korean plants.
Since GM's acquisition of Daewoo Motor Co. in 2002, South Korea has served as an Asian manufacturing hub for GM, mainly producing small and compact cars. But it has struggled in recent years as its cars lost popularity with Korean buyers and its exports and profit margins fell. GM's decisions to stop selling mainstream Chevrolet models in Europe, to sell its Opel unit and to stop selling cars in India hit the South Korean unit hard since it was producing cars for European markets and parts to be sent to emerging countries for assembly. GM Korea's annual production fell to 520,000 units in 2017 from 940,000 units in 2007.