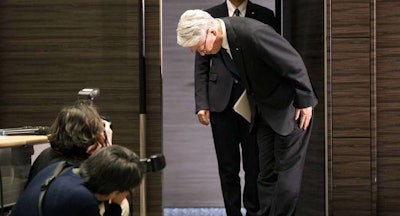 The chief executive of major Japanese steelmaker Kobe Steel is stepping down over a scandal that surfaced last year involving massive falsification of data from inspections of the company's products.
Hiroya Kawasaki, who is also chairman and president, said Tuesday he is stepping down from all three positions. He will stay on as a director but only until the annual shareholders' meeting in June.
His successor has not yet been named.
Kobe Steel has pointed to zealous pursuit of profit, unrealistic targets and an insular corporate culture as contributing to the scandal.
There have been no reported accidents or injuries related to the fake data.
The systematic misconduct spanned years, affecting products sent to more than 680 companies, including aluminum castings and copper tubes for autos, aircraft, appliances and trains.
Executive Vice President Akira Kaneko, in charge of the aluminum and copper business, also resigned. Takumi Fujii and Nobuaki Isono, managing executive officers in the aluminum and copper operations, the main areas where the misconduct took place, were fired. Two directors at group companies were also dismissed.
All directors, except for outside directors and auditors, were slapped with 10 percent to 50 percent pay cuts for a period ranging from one month to four months, the company said.
The scandal is an embarrassment for Japan Inc., which for decades prided itself on its discipline, craftsmanship and attention to detail.
Quality control woes have also surfaced recently at other top Japanese brands, including at Nissan Motor Co. Nissan has acknowledged that illegal vehicle inspections occurred for years at its plants in Japan.
Kobe Steel said executives had been aware of the problem but looked the other way. Two executives involved in the misconduct neither reported it to the board nor took action to correct the wrongdoing, according to a company report released Tuesday.
The company pointed to inadequate corporate governance, low awareness about quality controls and shoddy quality control procedures as root causes of the scandal.
In October, Kobe Steel reported 525 cases of misconduct. An investigation that followed found another 163 cases, including falsification of data for aluminum sheets and copper tubes.