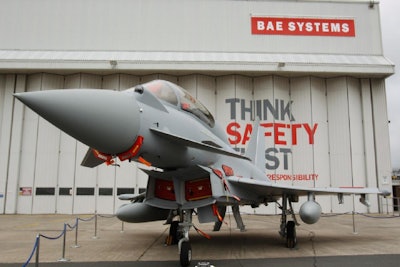 British defense company BAE Systems said Tuesday it is cutting almost 2,000 jobs in its military, maritime and intelligence services amid a slowdown in orders for its Typhoon fighter jets.
CEO Charles Woodburn said in a statement that the cuts are necessary to "align our workforce capacity more closely with near-term demand and enhance our competitive position to secure new business."
The jobs lost are largely at five sites over three years, including Warton and Samlesbury in northwest England, where the Eurofighter Typhoon is assembled.
The company said that while it expects Typhoon orders from Qatar, the order's timing is uncertain and production is being slowed.
Steve Turner, assistant general secretary of the Unite union, said the cuts will "not only undermine Britain's sovereign defense capability, but devastate communities across the U.K. who rely on these skilled jobs."
Business Minister Claire Perry said BAE hoped to reduce headcount through voluntary redundancies "as far as possible," and promised the government would work to ensure the workers and their skills are "retained within the U.K. industry."
She said the cuts were the result of internal restructuring, and "not related to any U.K. defense spending decisions."