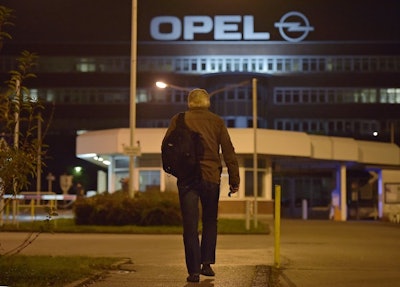 The head of France's PSA Group, the maker of Peugeot and Citroen cars, says his goal is to see Opel make money by 2020 — but he'll be doing it without Opel's CEO Karl-Thomas Neumann.
Neumann is stepping down ahead of the completion of the unit's sale by General Motors to PSA.
Opel said in a statement Monday that Neumann was leaving his post as CEO immediately but would remain a member of top Opel management until the sale goes through. Neumann was replaced by the chief financial officer, Michael Lohscheller.
The company said Lohscheller's appointment would "ensure continuity" and a "seamless managerial transition" as Opel builds a new strategic plan for its future under PSA Group ownership. PSA Group CEO Carlos Tavares was quoted as saying by the Frankfurter Allgemeine Zeitung daily that Opel had to become profitable by 2020 in order to generate the cash needed to invest in new models, markets and ideas. The goal is to have Opel reach PSA's levels of profitability — 6 percent operating profit margins — by 2026.
Tavares stressed that Opel needed to remain a German brand, and likewise with its right-hand-drive Vauxhall models sold in Britain.
"The more German Opel is, and perceived to be, and the more British the sister company Vauxhall is, the more they complement our brands Peugeot, Citroen and DS," he was quoted as saying.
Formally called Adam Opel GmbH, the German company has scored successes like its Mokka small SUV but has tended to lack models that bring high per-vehicle profits. As a mass-market carmaker, mainstay offerings in the lower price categories such as its small Adam city car and Astra compact face a tough European market with lots of competitors. The company has also struggled against strict worker protections that have slowed efforts to reduce costs and lessen underused factory capacity.
General Motors announced in March it would unload Opel and its Vauxhall brand for $2.3 billion after losing money in Europe for years. The deal will make PSA the No. 2 European automaker after Volkswagen.
"It was a difficult personal decision not to continue with the Opel/Vauxhall team when it transitions to Groupe PSA," Neumann said in the company statement. "I am committed to completing this transaction and will then take some time to decide what is next for me."