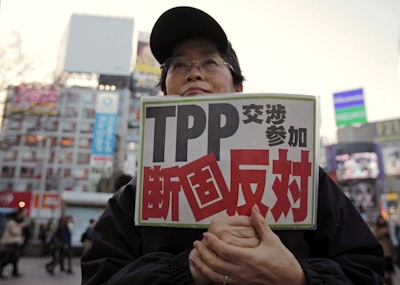 Japanese officials are indicating Tokyo intends to pursue the Trans-Pacific Partnership trade pact despite the U.S. withdrawal from the agreement.
In comments reported by the national broadcaster NHK on Thursday, Deputy Prime Minister Taro Aso said he believed the TPP trade talks would offer greater advantages to Japan than bilateral negotiations with the U.S.
Aso made the comments at a conference in New York City.
"There will be a discussion about possibly starting an 11-member TPP without America at our APEC meeting in May," he said, declining to give further details.
His remarks appeared to allude to U.S. Vice President Mike Pence's comments, after meeting with Aso in Tokyo earlier this week, that the U.S. considered the TPP a "thing of the past." Pence said the Trump administration believed that only bilateral trade negotiations would yield "win-win" outcomes.
During their talks on Tuesday, Pence and Aso launched a new "economic dialogue" that will consider ways the countries can strengthen the economic side of their alliance.
Japanese officials who briefed reporters after the talks indicated the two sides did not share a consensus on sticking to bilateral trade deals.
"We must continue to discuss what will be best for our country," Foreign Minister Fumio Kishida, told lawmakers Thursday.
He said Japan had explained to the U.S. the importance of the TPP in both strategic and economic terms, and he believed the U.S. understood that stance.
"It seems the U.S. is not easily going to change its position," he said.
Former President Barack Obama's administration championed the TPP, saying it would set a "gold standard" for modern trade rules, with stringent requirements for intellectual property, labor and environmental protections.
Critics of the plan say it would put corporate interests ahead of public and national sovereign interests.
Trump's withdrawal from the deal was a setback for leaders of other TPP countries who invested political capital in fighting to get it ratified, including Japanese Prime Minister Shinzo Abe.
In its current form, the TPP can only take effect after it is ratified by six countries that account for 85 percent of its members' combined gross domestic product. The U.S. made up 60 percent of the TPP's combined GDP, so it could not be implemented as it stands now.