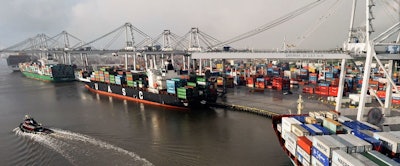 Port officials in Georgia and Virginia will be able to exchange information and ideas under a proposal approved by federal authorities last week.

The Georgia Ports Authority and the Virginia Port Authority applied to develop an East Coast Gateway Terminal Agreement in late February; the Federal Maritime Commission authorized the pact after a 45-day review period.

"We are making significant investments at our respective ports to handle the larger vessels and cargo volumes coming to the East Coast," said VPA CEO and Executive Director John Reinhart. "Now we will begin discussing about how to best leverage these assets, collectively and position Georgia and Virginia as the East Coast's primary cargo gateways."
The agreement allows the ports to share information and best practices regarding cargo handling, gate operations, turn times, staffing and infrastructure.

Georgia and Virginia officials could also jointly acquire or utilize equipment, operating systems and marketing materials, and the agencies could meet as a combined entity with carriers, shippers and marine terminal operators.

This agreement does not permit the ports to jointly negotiate, set or approve terminal rates or charges without additional approval from the FMC.

Port officials said that collaboration is necessary to keep up with the rapidly changing shipping industry.

"The East Coast Gateway Terminal Agreement is the latest example of port authorities and MTOs looking to the Shipping Act and the commission's agreement authority as a way to improve service and operations which will ultimately benefit the American shipper and consumer," said FMC Acting Chairman Michael Khouri.