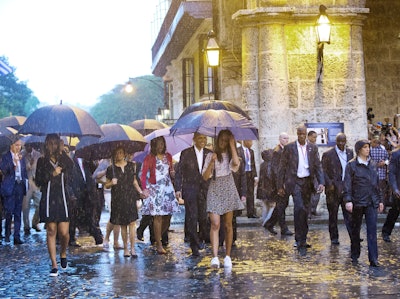 Brushing past profound differences, President Barack Obama and Cuban President Raul Castro will sit down Monday at Havana's Palace of the Revolution for a historic meeting, offering critical clues about whether Obama's sharp U-turn in policy will be fully reciprocated.
For Obama, there's no better place than Havana to show that engagement can do more than isolation to bring about tangible change on the communist island. Yet for the Cubans, the glaring question is whether their own government is ready to prove the ambitious diplomatic opening is more than just talk.
American companies, eager for opportunities in Cuba, were wasting no time. Obama announced that tech giant Google struck a deal to expand Wi-Fi and broadband Internet on the island 90 miles south of Florida.
"The time is right," Obama told ABC News. Though he acknowledged persistent differences over human rights and freedoms, he said he wanted to "get the ball rolling" before leaving office in less than a year. "We felt that coming now would maximize our ability to prompt more change, particularly because this has been welcomed by the Cuban people with enormous popularity."
Obama opened the first presidential visit to Cuba in nearly 90 years on Sunday when Air Force One touched down in Havana. Strolling through the grand cobblestoned plazas of Old Havana with his wife, Michelle, and daughters Sasha and Malia, Obama created an indelible image for both Cubans and Americans of the peacemaking that he and Castro have cautiously but doggedly pursued.
Indeed, the U.S. and Cuba are working more closely together now than at any time since relations took a nose dive amid Cuba's 1959 revolution. Yet while Americans are now flocking to Cuba in greater numbers, closer ties have yet to bring about the degree of change that many Cubans hoped would follow after Obama and Castro moved to normalize relations 15 months ago.
Since taking power in 2008, Castro has orchestrated economic and social reforms with lasting and broad-based impact, though to many Cubans and foreigners they appear slow to materialize. Not only are hundreds of thousands of Cubans now able to pursue free enterprise, but restrictions on cellphones and Internet have been eased and citizens feel more comfortable discussing Cuba's problems.
Yet Castro has given little ground when it comes to changing Cuba's single-party system or easing strict limits on media, assembly and political dissent. His government has also repeatedly chided Obama for saying he wanted to empower Cubans.
None of that has dissuaded Obama, who insists that any intransigence by Cuba's government only proves why Cubans will be better off when they're intimately exposed to American values.
"Let God will that this is good for all Cubans," said Odilia Collazo, a 79-year-old Havana resident, as she watched Obama's arrival on state television. "It seems to me that Obama wants to do something good before he leaves."
To that end, Obama came to Havana hoping his visit would spur Castro to offer gestures of good faith and meaningful change, which would undermine critics who accuse Obama of kowtowing to an authoritarian government. Though Cuba approved U.S. hotel chains Starwood and Marriott to operate here and moved to lift fees on converting U.S. dollars, those steps pale in comparison to sweeping changes Obama has enacted to lift decades-old U.S. restrictions.
On his first full day in Cuba, Obama was to lay a wreath Monday at the memorial to Jose Marti, a Cuban independence hero, before heading to Castro's presidential offices. After a series of meetings, the two leaders planned to address reporters. The White House's attempts to get Castro to agree to a joint news conference appeared unsuccessful, and it was unclear whether they'd answer any questions.
Castro appears to be closely and intensely managing what constitutes the most important change in Cuban foreign policy since the Cold War. Though Obama's aides have downplayed expectations for the meeting, Castro's remarks alongside Obama will be closely parsed for indications of whether he'll respond to Obama's opening with major new domestic changes.
Obama also planned an event with U.S. and Cuban entrepreneurs aimed at championing Cuba's fledgling private sector. He was to be feted in the evening at a state dinner, an honor illustrating just how far the U.S. and Cuba have come despite their deep ideological differences.
His visit was to continue Tuesday with a major speech that Cuban officials said would be carried on TV. Before departing for Argentina, Obama planned to meet with political dissidents and attend a game between Major League Baseball's Tampa Bay Rays and Cuba's beloved national team.
In his first few hours on the island, Obama created indelible images of a new U.S-Cuba relationship as he walked the rain-soaked streets of Havana and dined at a privately-owned restaurant in a bustling, working-class neighborhood. Jubilant crowds surged toward his heavily fortified motorcade, reminders of the Cuban people's deep affection for Americans despite decades of enmity between their governments.
Yet in a pointed reminder that Obama's aspirations for improved human rights in Cuba have yet to be fulfilled, a group of anti-government protesters were arrested while Air Force One was flying to Cuba, a scene that plays out weekly in Havana. Members of the Ladies in White group, one of Cuba's most prominent opposition groups, were expected to attend Obama's meeting with Cuban dissidents.